Tis' the Season, New Orleans.
In a city like New Orleans, the holidays tend to bring happiness and awareness. With a higher rate of homelessness and people with mental health issues, it's important to help when we can. As Thanksgiving and Christmas approach, I couldn't help but notice an increase in platforms putting on events that are giving back to the city this season. Whether its through donations or your time, below are a few pop-ups happening in November and December that you can be a part of that allow you to help someone in need:
Cruise Life's Free Hot Lunch + Coat/Blanket Drive + Food Giveaway under the Claiborne Bridge
WHEN: Sunday, November 18, 2018 at 12pm
WHERE: Under the Claiborne Bridge
PRIFF: "Sunday afternoon we're serving up some fresh hot lunch plates and collecting/distributing coats and blankets for our loved ones livin in the tent city under the bridge… if u want to help in anyway be it food serving, or collecting distributing coats/blankets just reach out to brother @priff17. #cruiselifecc will also be bringing the homie Los Angeles @wegonridetv to let him get a look at New Orleans car culture, so pull up clean and ready for camera time… all car clubs invited… toiletries and grooming supplies also might be a good idea. I'm sure it would be appreciated by those who have fallen on hard times as the temperatures drop."
Larry Morrow x Alvin Kamara's First Annual Turkey Giveaway and Thanksgiving Fest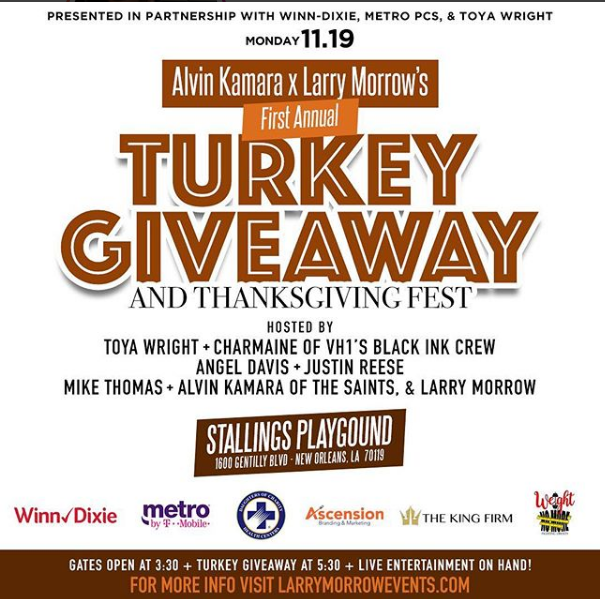 WHEN: Monday, November 19, 2018 beginning at 3:30 pm
WHERE: Stallings Playground in the 7th Ward – 1600 Gentilly Blvd.
LARRY MORROW: "This Thanksgiving, I'm excited to be doing a Turkey Giveaway/Thanksgiving Fest in the same neighborhood I grew up in and played park ball at! Me and my mans @AlvinKamara along with other friends and partners @cantguardmike, @toyawright, @iloveangel2, @charmainej_tv, and @thejustinreese are teaming up with @winndixie and @metrobytmobile to help over 1,000 families."
Republic NOLA x Winter Circle Production's Gobble Wobble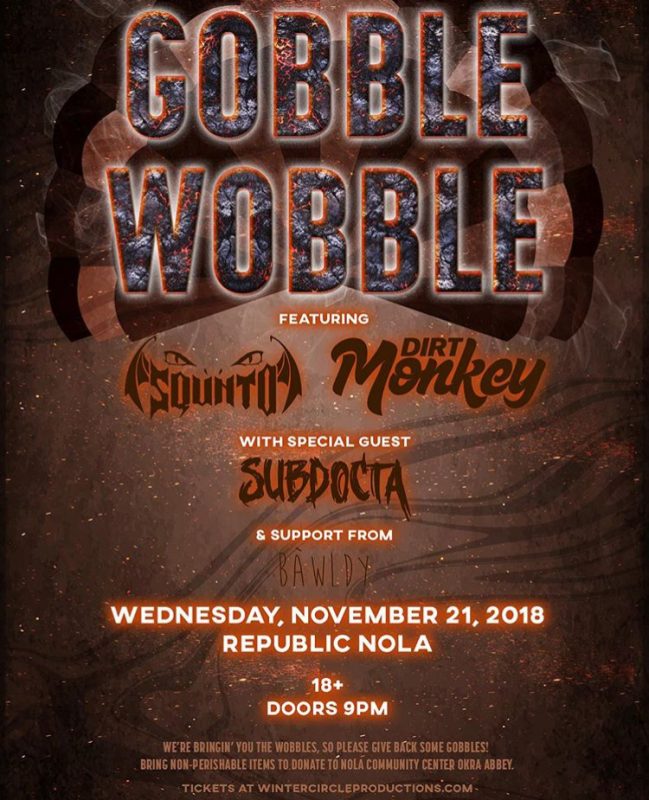 WHEN: Wednesday, November 21, 2018 at 9pm
WHERE: Republic NOLA – 828 S. Peters St. New Orleans, LA
REPUBLIC NOLA: "We're here to bring you the wobbles, so please give back some gobbles!" They're asking for donations for canned foods or non-perishable items to donate to the New Orleans Okra Abbey Community Giving Center. Sounds by SQUNTO, Dirt Monkey, and Subdocta. Tickets are available here.
Reem0017th's Thanksgiving Turkey Bowl & Jacket/Coat Drive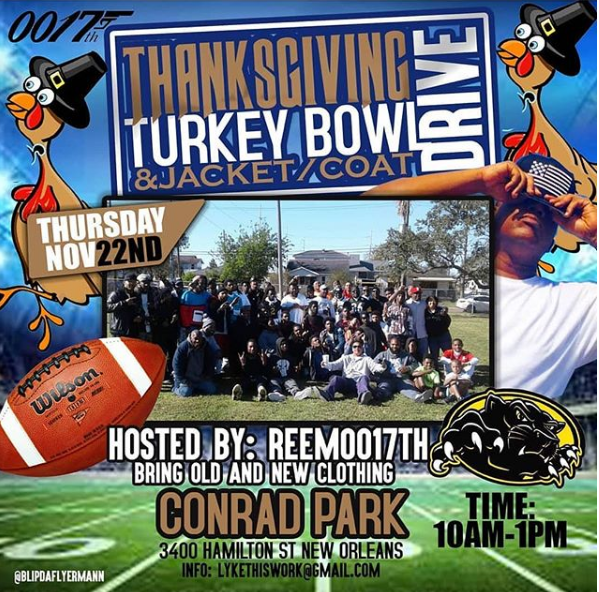 WHEN: Thursday, November 22, 2018 from 10 a.m. to 1 p.m.
WHERE: Conrad Park – 3400 Hamilton Street New Orleans, LA
REEM0017TH: "Bring jackets/coats that are old or new! Lets donate to the needy."
Alexis Miller & Epic Nola's #HashtagLunchbag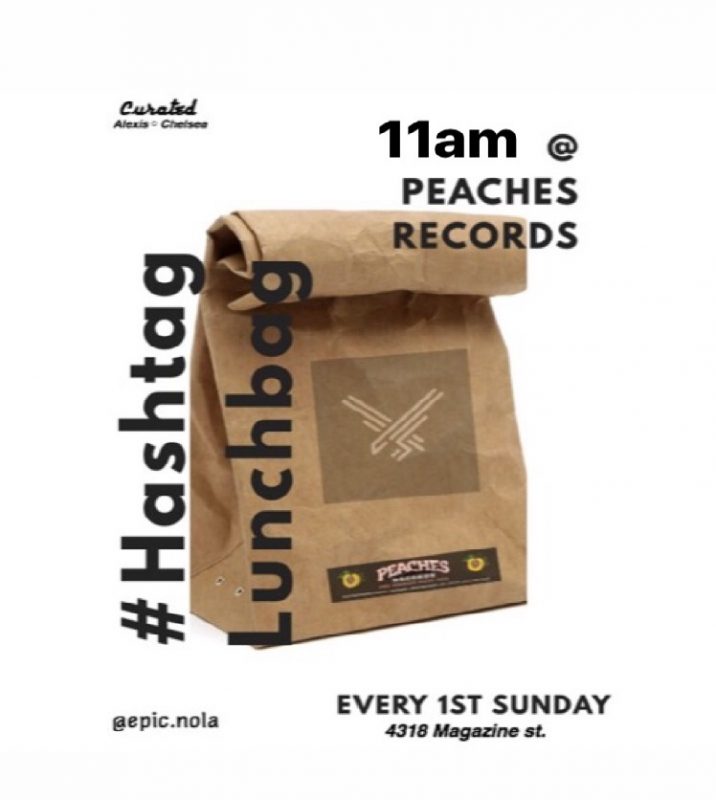 WHEN: Sunday, December 2, 2018 at 12pm
WHERE: Peaches Records – 4318 Magazine Street New Orleans, LA
It's the last first Sunday of 2018, so be sure to pull up to the final HashtagLunchbag for the year. Lunches will be assembled, bagged and brought to feed the homeless at St. Jude's Church. Contact Alexis Miller for more information. Brought to you by Alexis and Epic Nola Church.
Holiday seasons tend to be the cheeriest of them all. In contrast, they can be the coldest and darkest for those that live on the streets without a meal or jacket on their back. Ultimately, at the end of the day, the end of the year, we are all one community. If you're from New Orleans, you know we're a unique city. But, what kind of city are we without the support of one another?
You never know how your words can impact someone's life. So, if you can, forget the shopping and decorations for one moment and reflect on your community. Be the change.