Snoop World: How Tha Doggfather Became A Lieutenant In The No Limit Army

1998 undoubtedly remains one of the strongest years in hip hop's storied history. As DMX triumphantly brought it back to the streets, artists like Outkast and Lauryn Hill creatively pushed the genre forward with groundbreaking releases that are heralded as classics to this day. 1998 gave us more than countless landmark albums though – it further cemented hip hop as the dominant force in music, period. Despite the genre growing at an unprecedented level, one of its largest superstars found himself at a crossroads as the year began.
https://www.youtube.com/watch?v=ydM3K_-t3lw&feature=youtu.be
When Snoop Doggy Dogg first exploded on the scene with Dr. Dre in 1991, it was clear that hip hop would never be the same. The West Coast's dominant chokehold on the game in the early-to-mid 90's is largely thanks to Dre's heavy, Parliament-inspired production and Snoop's ability to spit murderous tales with the smooth delivery and flow of a mack. His crossover appeal was undeniable and as the hits continued to pile, it seemed as if the Death Row regime was destined to reign forever.
Flash forward to the end of 1996 and it was all but over. The dynasty that seemed so promising just a year prior was now in shambles. Dr. Dre left Death Row after numerous disputes with label head, Suge Knight, and the label's other marquee star, Tupac Shakur, was dead after being shot four times in a drive-by shooting in Las Vegas. Knight, who had violated the terms of his parole by participating in the stomping of a Crip the night Shakur was murdered, was subsequently sentenced to 9 years in prison.
Snoop, who was gearing up to release his long-awaited sophomore album just two months after Tupac's death, was both creatively and spiritually drained. And it showed in his music. Tha Doggfather hit stores November 12, 1996 and proved to be an uninspired, flat follow up to his debut album, Doggystyle. The involvement of Dr. Dre was certainly missed but the most noticeable difference was Snoop's effort and overall performance. The album's singles paled in comparison to its predecessor and by the spring of 1997, Tha Doggfather was largely forgotten.
Adding insult to injury were the rumors of Snoop's safety at the label he once proudly called home. In an effort to defuse a media-driven coastal war, he began appearing publicly with Bad Boy Records CEO, Sean "Puffy" Combs. A noble concept on paper but for many at Death Row it represented betrayal. The Death Row/Bad Boy beef was much more than an exchange of words on wax. Suge held Puffy personally responsible for the death of his close friend, Jake Robles, in Atlanta in 1995 and there was even speculation that Puffy had placed a $10k bounty on Death Row medallions. Seeing the only star power he had left making peace with a sworn enemy while he sat behind bars infuriated Suge and all but spelled the end of Snoop's tenure at Death Row.
"I definitely feel like my life is in danger if I stay on Death Row. That's why I'm leaving."
https://www.instagram.com/p/BpYTFwRlwbY/?taken-by=newtralgroundz
Death Row's plans to release a new Snoop EP, titled The Doggumentary, were immediately scrapped and the rapper soon publicly began claiming he hadn't been paid in months.
There were also rumors Snoop was now planning to release a full-length album independently called Corleone's Revenge, dissing Suge Knight and the entire Death Row label. There was a problem, however. Death Row still exclusively held the rights to Snoop Doggy Dogg and any music he attempted to put out. Simply put, if Death Row didn't sign off on a release – it wasn't going to happen. Relatively alone, and without a strong support system, Snoop desperately sought an exit plan to save not only his music career, but his life as well.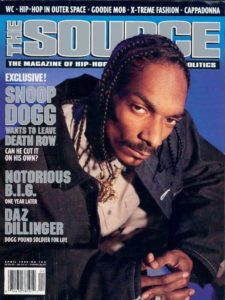 It was also around this time that the Long Beach-born MC began frequently visiting the offices of Priority Records. Already loosely connected to Priority through the company's distribution of Tha Dogg Pound's Dogg Food album in 1995, Snoop also maintained a healthy relationship with a number of their artists; namely Ice Cube and Mack 10. Also signed to Priority Records at the time was a young entrepreneur that had recently managed to put out a string of gold and platinum albums with little-to-no promotion.
Bad Boy may have dominated the airwaves in 1997, but it was a relatively unknown label headed by Percy "Master P" Miller that took the country by storm. Founded in Richmond, California in 1990, No Limit Records took a long, winding road before they began to experience considerable success. Countless Bay Area releases sold well enough locally but it wasn't until Master P relocated the label to New Orleans in late 1996 that they started to take off nationally. P's ability to market virtually unknown artists by having them guest on any and all No Limit releases, flood album art with advertisements for upcoming projects and a grassroots approach to promotion put No Limit at the forefront of the increasingly popular sound of southern rap.
Snoop Doggy Dogg first met Master P in the mid-90's and began developing a casual friendship and mutual respect, based on the success of one another's accomplishments. Snoop was arguably hip hop's biggest superstar while Master P had managed to do what no other hip hop artist had ever done – inking an 80/20 distribution deal with Priority and independently funding, distributing and starring in his own biopic. The conversations between the two quickly turned to music and resulted in Snoop appearing on No Limit artist Mystikal's 2nd album, Unpredictable. The song, "Gangstas", also featured P and quickly became a choice album cut savored by fans excited to see Snoop alongside two of the hottest rappers at the time.
"Gangstas" popularity led to additional collaborations with Snoop featuring on P's youngest brother, Silkk The Shocker's album (Charge It 2 Da Game) and Fiend's No Limit debut (There's One In Every Family). His public affiliation with the Tank began fueling rumors that a deal would soon be in place to secure a new label home but Suge Knight's reputation alone had labels petrified to do business with him and, for a long time, it looked as if Snoop might actually continue to rot on Tha Row. The aforementioned rumors, however, circulating as early as January 1998, would soon prove to be true.
If there was one movement at the time that wouldn't allow Suge's boogeyman persona to stand in the way of opportunity – it was No Limit Records. Part of the reason fans embraced Master P and his stable of New Orleans-based rappers was the authenticity with which they carried themselves. No Limit prided themselves on avoiding beef on wax and that was, in large part, because if there was a problem – they would really see you. Master P also realized just how important landing a star like Snoop would be for his brand. Mystikal was a huge signing for No Limit, after building a healthy buzz throughout the south, but signing Snoop would take the label to unprecedented levels.
And so it wasn't long before Master P flew to upstate California to visit the incarcerated Knight, with the sole purpose being acquiring Snoop's talents and breaking him away from the clutches of Death Row. While the terms of the deal were never made public, it was speculated that Miller agreed to pay Knight millions for the rights to sign Snoop. Nevertheless, the deal was soon finalized and No Limit's fortune and, more importantly, Snoop's life were forever changed.
"Him saving my life; giving me a second chance…Helping me to find a way to happiness. That's what Master P did for me."
In March of 1998, the rechristened Snoop Dogg and his new No Limit family formally announced his signing with the label. He soon left Los Angeles altogether, moving to Baton Rouge to immerse himself in his new company's culture, see the music business for all it had to offer under the tutelage of P and become a better man in general. While many scoffed at the musical direction Snoop was heading in '98, there is absolutely no doubt that he wouldn't be where he is now if he hadn't signed with No Limit. It allowed him to grow creatively, tapping into the film industry, developing a clothing line, signing new artists and solidifying the brand of Snoop Dogg that we all know and love to this day.