**Author's Note: This album was re-released in 1999 as a B.G. solo album. While B.G. appears on every song (with Lil Wayne only appearing on 3 of the album's 8 tracks), this was not a formal solo release. It's important, for historical purposes, to view this project as it was originally created.**
New Orleans' hip hop scene in 1995 was unique for a myriad of reasons. While bounce music continued to dominate the airwaves and remained in-demand, the genre also began to experience a period of oversaturation and fatigue. The city was also reeling from the previous year's staggering amount of murders (New Orleans recorded an unprecedented 424 homicides in 1994 alone) and the dreary and hopeless climate began to impact its music more than ever.

By '95, aspiring rappers no longer needed that sure-fire bounce single to crossover. Uncut and in-your-face gangsta rap ruled nationally and began to corner a heavy piece of the Crescent City's hip hop market as well. Local artists like Mystikal and Magnolia Slim's buzz were predicated on excellent story-telling and technical skills. The Uptown label, Cash Money Records (founded in 1991), already housed a stable of competent MCs and began expanding their musical template in response to this gradual shift in popularity.

What separated Cash Money from other N.O.-based-labels like Big Boy and Take Fo', however, was their bold, but visionary, decision to sign and promote preteens as the faces of the company's future. And unlike Kriss Kross, these Cash Money kids weren't going to make you "jump!" – no, they were going to sell you a bag of dope and pull akickdoes. The shorties handpicked to bring this concept to life were 13 year old Christopher "Lil Doogie" Dorsey from the 13th Ward and 11 year old Dwayne "Baby D" Carter from the 17th Ward. Under label-head Bryan "Baby" Williams' guide, the duo would collectively be christened The B.G.'z.

Doogie and Baby D began working on their debut EP, True Story, in early 1995 in anticipation of a July release. With newly-signed in-house producer, Mannie Fresh, at the helm and features from labelmates Mr. Ivan, Ms. Tee and Tec-9, True Story was released in the summer of 1995 to an overwhelming positive reaction and served as a precursor for the formulation of supergroup, The Hot Boys, a mere two years later.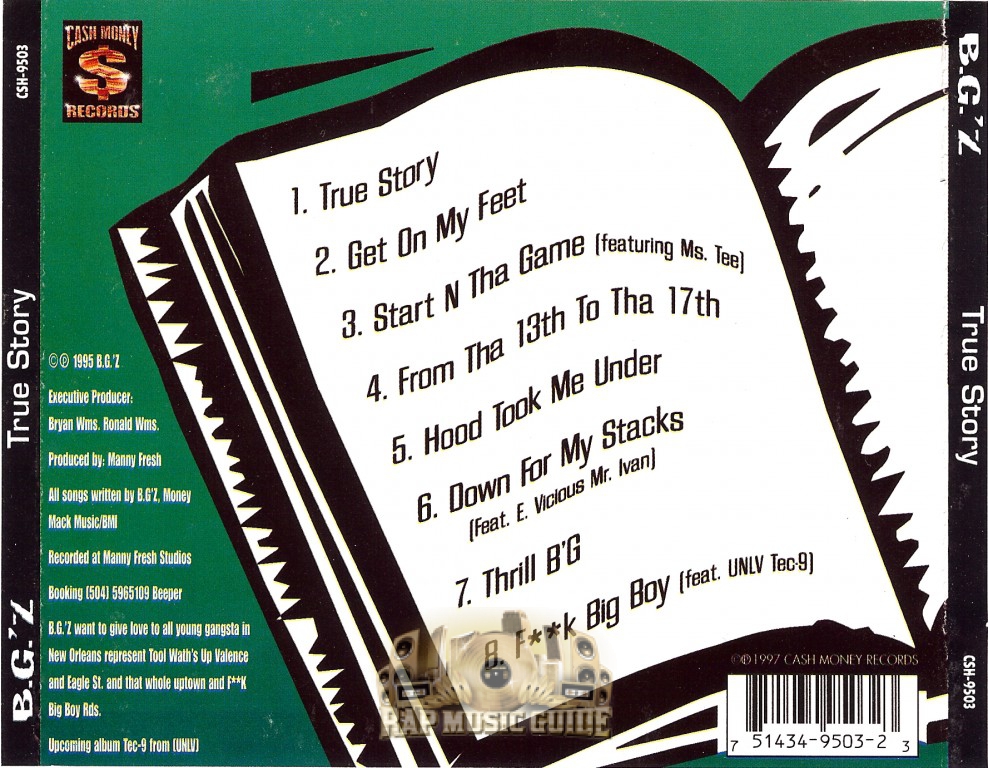 True Story gets underway with the title track of the same name. For as much as New Orleans began to move away from bounce in the mid-90's, its influence and presence was still at the forefront as The Showboys' "Drag Rap" is the first sample heard on the album – a B.G. solo endeavor that goes straight for the jugular of crosstown rival, Big Boy Records, and its biggest star, Mystikal. Although Doogie was only 14 at the time, his syrupy drawl and flow have already developed into a crisp delivery. The whole Big Boy roster is spared no mercy:

'Mystikal, you's a hoe, it's time I let you know…
'Y'all Ain't Ready' for local five, got a Boot Camp fulla hoes!'
The opening war cry is a classic and its follow-up, "Get On My Feet", is just as impressive. Here, Mannie Fresh builds around Isaac Hayes' "Ike's Mood", cultivating a bleak backdrop for Doogie's sad tale of a baby gangsta trying to get his feet firmly cemented in the crack game. Strong as the song is, it's equally as sad that it's coming from a fatherless adolescent forced to go this route.

'Like Pac I'm in so much pain, I'm broke and slangin' in the rain…
14 and struggling – pocket full of crack cocaine.'

Cash Money original and legacy member, Ms. Tee, provides the hook for the energetic and upbeat "Started N Tha Game." B.G.'s pitched and melodic style is tailored to the bounce production, a commendable display of versatility, but the song does nothing to detach itself from countless other bounce numbers of the time.

"From Tha 13th To Tha 17th" marks the halfway point of the EP and the first appearance of Dwayne "Baby D" Carter. The song's title is a nod to both artists' wards and sports the sharpest production of any song on True Story. While the head-bobbing bass and slippery piano playing are a highlight, it's Doogie and D's carefully crafted vocals that solidify this as a Cash Money classic. If you press play expecting to hear the Lil Wayne of Get It How U Live!, though, you've picked the wrong album. Wayne, at only 12 years old, hasn't even hit puberty and only the faintest glimpse of what he'd grow to be as a lyricist is on display.
B.G. hops back in the driver's seat for "Hood Took Me Under", a surprisingly reflective acknowledgment that he's heading down all the wrong paths but doing it with the hope of eventual happiness and prosperity. The only hindering factor here is the patchwork feel of the production. Combining Dr. Dre's wiry synths with drum patterns popularized in bounce was a whiff and overshadows an impressive lyrical outing. "Down For My Stacks" is the obligatory posse cut that falls flat due to bland production and lackluster features. It's clear that Fresh was still perfecting his sound in 1995 and hadn't yet hit his stride on the boards.

Wayne returns, but is barely discernible, for "Trill B.G.'z" – another addition that would've been much more enjoyable if the production and mixing were up to the standards of some of the album's earlier songs. It's so distracting at times that neither artist's performance reach listener's ears the way they should. Ending True Story on the same note that it began, Cash Money assembles its all-star lineup for "Fuck Big Boy", a straightforward slaughter of the downtown record label. Tec-9 (of U.N.L.V.) sets it off before B.G. joins in – attacking both Mystikal and Partners-N-Crime. The true highlight of the diss though is Wayne's involvement and penchant for penning an effective battle record at such a young age:

'So let's show them wannabes what we made of, nigga!
Try to knock a B.G., Im'a spray ya, nigga!
Swore to God you was hard, but you don't want none of me…
Cause I'm that little bitty killa off of Apple & E!'

Musically, True Story doesn't come close to resembling any form of timeless classic. B.G., while evolving rapidly as an artist, was still a year away from reaching his true potential and Lil Wayne (or Baby D as he's known here) was nothing more than a novice getting his feet wet in the world of hip hop. So while it's fun revisiting the genesis of "the best rapper alive's" illustrious career or discovering that Gizzle's skills have always produced consistency, ironically the music doesn't matter as much with this release because True Story's true victory is establishing a blueprint for Cash Money. If not for the success of this album, it's possible the label doesn't run with The Hot Boys concept and we're never treated to the golden era of the CMR dynasty. That alone makes it worth a purchase, especially if you can get your hands on the original release.

Overall Vibes: 6.6/10