John Díaz-Cortés recently released Lo-Fidelity, but he isn't nearly done yet.
If you're not familiar with artist and music producer John Díaz-Cortés, you might be wrong. Having worked close with legendary New Orleans names like the Mayfield's and Neville's, Cortés is steady on the move. Additionally, he's worked closely with some of the most talented local New Orleans Hip Hop Artists. Specifically, he is responsible for working hand in hand with Irvin Mayfield and MAQ in co-producing one of my favorite albums, Supreme Beings. The album features local artists like Paasky, Made Groceries, Don Flamingo, Gene Stanza, and more.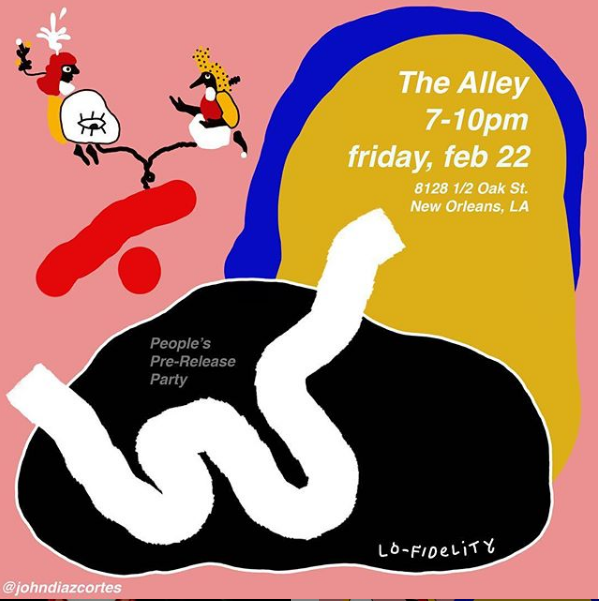 Recently, he released his album Lo-Fidelity, which he premiered at The Alley Concept on Oak Street. The album features artists like Irvin Mayfield and HelloNegro. Steady spinning on the vinyl, Cortés set the mood for an enjoyable night. But, he's got an even better trick up his sleeve for…the next year, into 2020.
That's right. He recently just announced that going forward, he will be releasing monthly albums until his 33rd birthday, which will fall on January 3, 2020! Not only will be bless us with consistent music vibes, each album will be released in conjunction with a party. Nothing speaks to New Orleans more than music and a party.
Preceding Lo-Fidelity, Cortés announced that his upcoming March album will be titled Study Hall.
"Study Hall…I've spent a lot of time in school. Studying is quite literally one of my favorite things to do. Music has gotten me through a lot of time in this planet."

John Díaz-Cortés
If you want to stay updated on his monthly releases, be sure to follow him on Instagram here. Upon their release, you can access all of his albums on most steaming sites.
It is without a doubt that Cortés is a multi-talented artist and often plays many roles, given the project. His mind is colorful, and he's always got a trick up his sleeve. Be sure to be on lookout for the release of the date and location of his March album Study Hall, which will be sometime soon.