Giannas is a new Italian restaurant located at the corner of Magazine and Girod St (up the street from Lucys and Merils for those familiar with the area) So think Italian food rooting in Louisiana tradition and technique.
When dining one can expect daily antipasti (an appetizer typically including meats, cheeses, olives, and anchovies), small plates, entrees, and house-made plates of pasta. A neat option they feature is "Feed Me", offering guests the experience of a four-course meal with dishes hand-picked by the executive chef, Rebecca Wilcomb.
Many will question, 'What made you eat here or how did you locate this new eatery?' Well, I was actually on my way to Merils one night when I passed Gianna's. I couldn't help but glance through the windows at this place. Inside, from what I could see, was a gorgeously decorated restaurant, with a popping bar and beautiful people. I knew this place would be next on my list and week later my reservations were set for Friday at 9 pm.
It's Friday night and I look date night AF. I'm wearing a beautiful white halter blouse w/black trimming. If I were short, the top could've passed as a dress. Unfortunately, I'm classy and wore black shorts.
To my surprise, I arrived early with time to get a great parking spot and able to check in with time to spare. The hostess sat my date and me near the 2-top window seat. I prefer sitting by the window, during the day time but something bot night time I'd prefer to sit amongst the crowd. Odd I know, but I like to be in the heart of the restaurant. Ok so just as I imagined, this place was the hot spot. Very important people of all shades & sizes encompassed the room. To my right, was a round table of established black men. I don't know this for sure but I spotted a few men I knew from having good jobs lol. "Guys night out" is what they told their wives, I imagine. I can dig it. To the right of me were duos of girlfriends drinking wine by the bottle catching up or making elaborate after-dinner plans. Living in New Orleans you may find it difficult to spot people who actually put forth effort towards their Friday date night looks. Not at Giannas. It was the place for the fashion-forward crowd. Anyways, let's get down to brass tacks…the FOOD.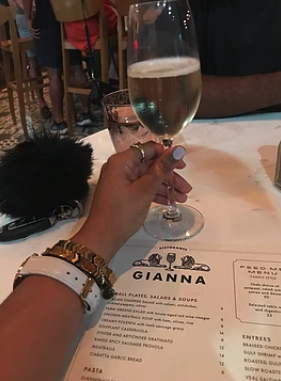 To start, I ordered a glass of champagne while I perused the menu. A couple of items that jumped out at me were the slow-roasted pork shoulder with fennel & orange and the Veal Saltimbocca. I'm gonna go ahead and assume I ordered the veal because I wasn't eating pork or at least telling myself that at the time. Back to the veal. You'll rarely see this listed on menus so my decision became a no brainer. I started with the daily selection of 3 for $11 antipasti: Tuna stuffed peppers, Oven-roasted marinated mushrooms, Mozzarella with tomatoes and basil. I just knew I was on something when I ordered this. Boy Idk wtf..the only appetizing part was the mushrooms. Whatever.
As my entree was placed near me, I could've sent it back upon arrival. I promise you I almost told the server that it wasn't for me. To my dismay, it in fact was the veal. I thought I never had veal, but maybe I was wrong? After seeing the thinly sliced, pork-chop like appearance it brought nostalgic moments of my childhood. Smothered veal and grits…or am I making that up. I envisioned a beautiful piece of meat to only be let down my skirt steak looking veal. No side or anything. Please see the photos below to grasp my frustration of what I expected and what I got instead.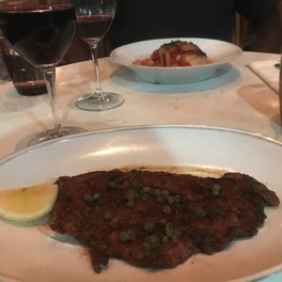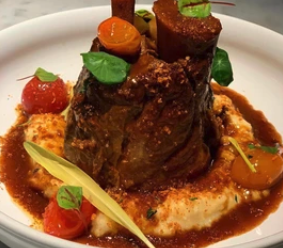 After the disappointment of my entree and my dates meal being bland, I was ready to exit. The environment is fun, smart and sexy but the food not so much. If you do decide to dine here, let me know your thoughts. Hell, you might even find me at the bar. Oh! & in case you didn't know, Giannas is #FATGIRLUNAPPROVED
Tastefully Yours,
Fat Girl