THIS ONE IS FOR YOU NEW ORLEANS.
After a year's work, Phillip Santosuosso, owner of Humidity Skate Shop in New Orleans, has announced its newest shoe collaboration with NikeSB. Coined the 'Trumpet High', this shoe is everything New Orleans. 
Glistening in brassy gold, the shoe has minute features that are significant to New Orleans, home of the greatest culture. Laced on the inside is a bow tie, a strong representation of Louis Armstrong and the city's embedded jazz culture. Decked out on the shoe's soul lye musical notes, a true representation of 'Music for the Soul'.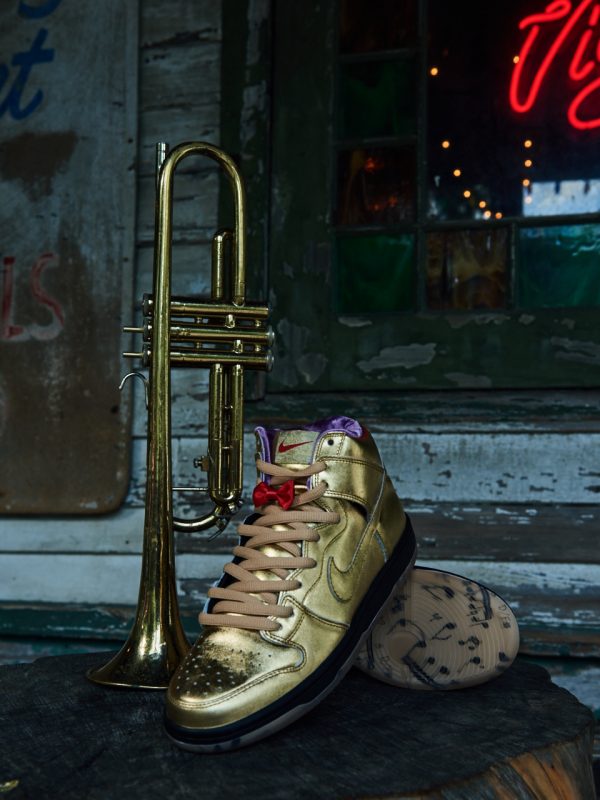 Like most other businesses in New Orleans, regardless of its global forefront, we stay true to small business. The same can be said for the skateboarding community. Upon my first peep of the Trumpet, I was intrigued in learning more about the overall concept behind the shoe.
Fortunately, I was able to link up with skate shop owner and a long-time friend of mine, Phillip Santosuosso, to learn more about the brassy shoe.
"The idea behind the 'Trumpet High' comes from a brass instrument in connection with kids playing in the streets; kids we pass up everyday on the street corner. Here in New Orleans, kids are still raised with a horn in their hand, and on the culture of jazz as a whole," says Phillip.
Having been consumed by the culture of skateboarding almost his entire life, Phillip says that "Upon developing the look of the shoe, I was immediately inspired by one of my favorite shoes growing up: Nike's TrickStars. That shoe right out of the box was just ignorant."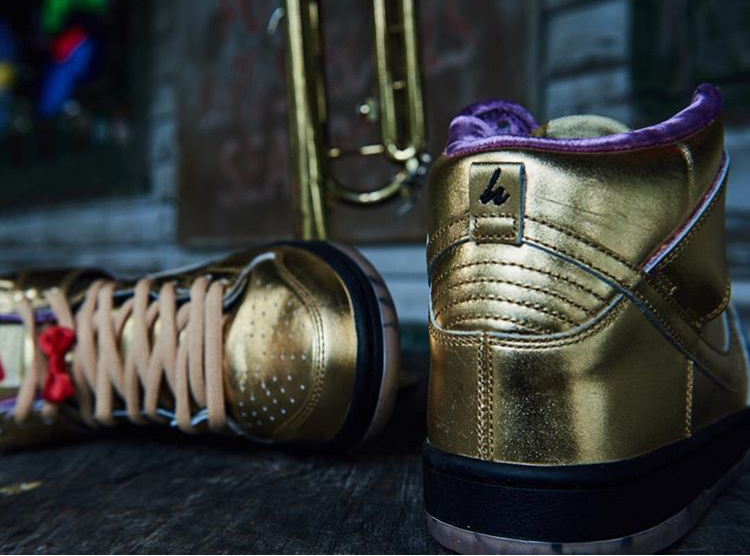 2018 marks New Orleans' 300th Anniversary and Tricentennial year
Although having worked with NikeSB on the shoe for about a year, the timing of the Trumpet's release, in connection with the city's current cultural issues, is spot on. In addition to the recent controversy from Kenner Mayor Ben Zahn, after having banned all Nike products from any Kenner recreational center, the shoe is somewhat of a birthday gift to New Orleans.
To date, the city has been working hard to celebrate its 300 years of rich history, diversity, and cultural traditions and resilience. The same can be said for the Trumpet Highs. Remember, as you walk down the streets of New Orleans in your Trumpet Highs, hold your head high. You represent culture, youth, community, jazz, skateboarding, and most importantly New Orleans.
Since opening the skate shop, Phillip's emphasis on New Orleans Skateboarding always comes back to the city's kids. Synonyms with the shoes dedication to New Orleans youth, Phillip is currently in the midst of starting PUSH THRU, a non-profit skateboarding foundation aimed at providing kids with free skateboards in exchange for positive community work.
The official 'Trumpet High' shoe release will take place Saturday, September 15, 2018 at Humidity Skate Shop (515 Dumaine Street). The shoe will be available for purchase with a limited edition box that you do not want to miss. Additionally, there will be 'Trumpet High' related merchandise available. Doors open at 10 am.
If you cannot make the release, the remaining Trumpet Highs will be available for purchase online at www.humiditynola.com on Monday, September 17.