Bikes Bring Bonds! Stop the violence, not us!
In a city full of centuries old cultures and traditions, in this gumbo pot of life, every few years another sub-culture is born. New Orleanians take whatever culture introduced to them and add a little sauce to it, taking it to new levels of style and sportsmanship.
New Orleans bikelife has been gaining more popularity and infamy through the years.
Popular amongst most civilians but infamous to law enforcement. It's an escape from the streets, it's what keeps them focused, and a family to the riders. On the other hand, its a crime, more specifically, a traffic violation. Young men and women often do jail time. But why? Everyone has heard of the War on Drugs but let's take a look into the Bikelife War. New Orleans Bikelife VS the State of Louisiana.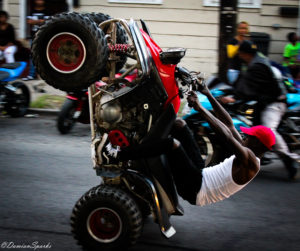 Most people see bikelife riders on Sunday freely wheeling down the street with smiles and flashy bikes as they leave from the second line. These bikes have become part of the celebration that is so unique to New Orleans. People actually anticipate the arrival of the crowd of stunt riders as if they were Indians or a brass band.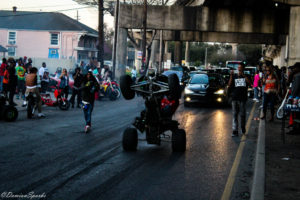 On the outside looking in, everything appears fine
but according to Douglas Johnson (IG: @fresh306), a 4 year New Orleans Bikelife veteran, NOPD chase and hassle riders. Which is illegal in other cities like New York, Philly, and Baltimore. These cities have a bikelife population that's much larger than New Orleans. Johnson also states that NOPD/State Troopers "makes it seem like we are causing harm/chaos." NOPD representatives have reported on Channel 6 news that they are concerned for the riders and public safety. Though that may be true, but is there an underlying aggression that is felt only within the bikelife community? I personally know multiple riders who have returned home from jails with claims that New Orleans Bikelife is actually thought of as a gang by law enforcement. Stolen bikes being their driving force.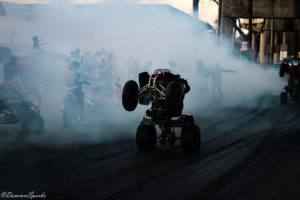 Bikelife culture as we know it, from our local riders to Meek Mill, started in urban areas usually poverty stricken. This means there's no ATV/Dirtbike parks to go to and most of these riders cannot afford to travel outside of the city.
A new breed of motorcross stunt riders were born. It would be biased for me to say the "stolen bike" stigma is all myth. There's good and bad people in every aspect of life. Bikelife is no different. What I can say is that there is an effort to eradicate these stolen bikes altogether. In an attempt to gain compliance from law enforcement. Stolen bikes gives law enforcement justification for chasing, using force, and taking riders to jail. That's why it's their driving force. More prominent members of the nationwide bikelife community like Wheelie Wayne from Baltimore and Bikelife Free from New York have been seen on Instagram purchasing bikes and giving them to the youth. In an attempt to get young men to stop stealing bikes, encourage working hard, and saving their money.
The New Orleans Bikelife Instagram page have been making posts discouraging people with stolen bikes to come out and ride
because much of the heat on New Orleans Bikelife stem from stolen bikes. We tend to not think of Law Enforcement as actual people sometimes. According to Johnson most officers he's come across love seeing the bikes come through as much as everyone else. So if it's not all hate then can a middle ground be reached in the future? Channel 6 has reached out to New Orleans Bikelife founder Ziggy (Instagram: @hnic_ziggy) and Earl of the Eastside Wheeli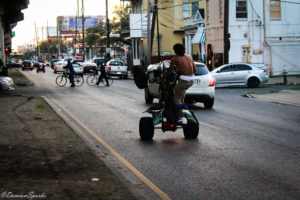 e Kings (Instagram: @eastside_wheelieking) but they seem intent on painting a particular light on the bikelife culture in New Orleans. The positive and inspiring interview given by Earl was never aired. Multiple cities around the nation have worked with their bikelife community in ways that allow riders to ride on Sundays as long as they abide by traffic laws. There are even raceways in Pennsylvania and Virginia that allow bikelife riders to come ride there. There is no legal way to ride in New Orleans. Most riders don't have the means to travel to the outskirts of the city to ride. Though Johnson belie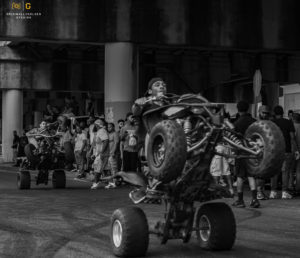 ves that if riders "wore helmets, stop at red lights, and respect the road" then a dialogue could be opened to discuss a park or a route and specific times to ride. Of course this comes after police stop finding stolen bikes.
New Orleans Bikelife has become nationally known in the bikelife community thanks to Mardi Gras and a videographer named "Mr Bizness."
Mr Bizness captured the essence of New Orleans and Bikelife swirling together like magnificent aromas floating from the French Quarter. Needless to say, people fell in love. Which means Bikelife isn't going anywhere because now tourists are coming to see floats and Indians but also the massive crowd of bikes taking over the streets and highways. I'm eager to see what the future of New Orleans bikelife holds because one day law enforcement will realize this isn't just a trend. It's become a generational traditional intwined with Mardi Gras. The leaders of New Orleans Bikelife are taking the steps to dispel stereotypes and become more organized. In hopes of one day having a talk with the city and NOPD. At the end of the day, more good than harm is being done and these bikes have saved more lives than they've taken.