May 10, 2019 – Sneaker Politics, New Orleans,LA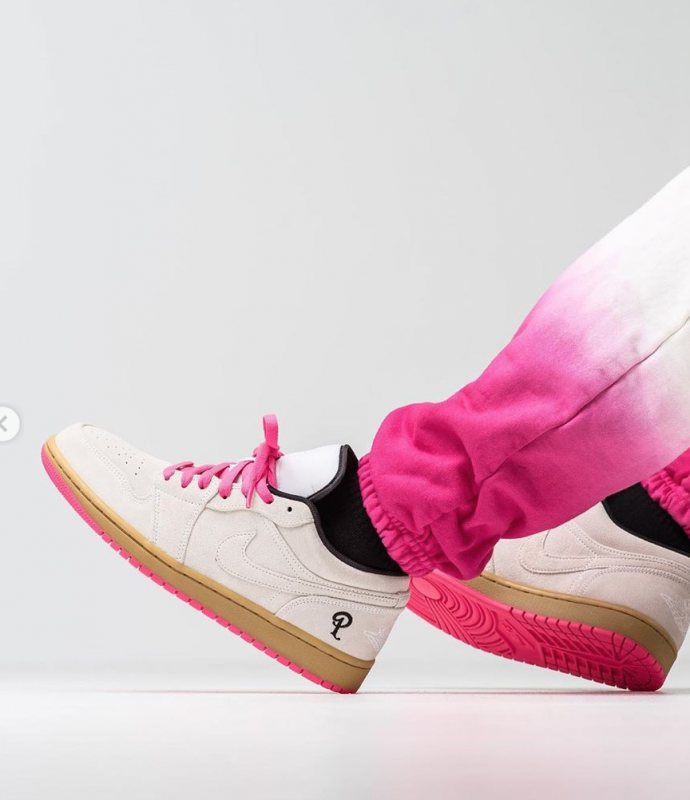 HOT OFF THE BLOCK! Literally. If you didn't get the chance to make it to Sneaker Politics latest shoe release block party with Brand Jordan, you missed out. Really… Filled with people lined up and down Chartres Street, the event would have caught anyone's eye.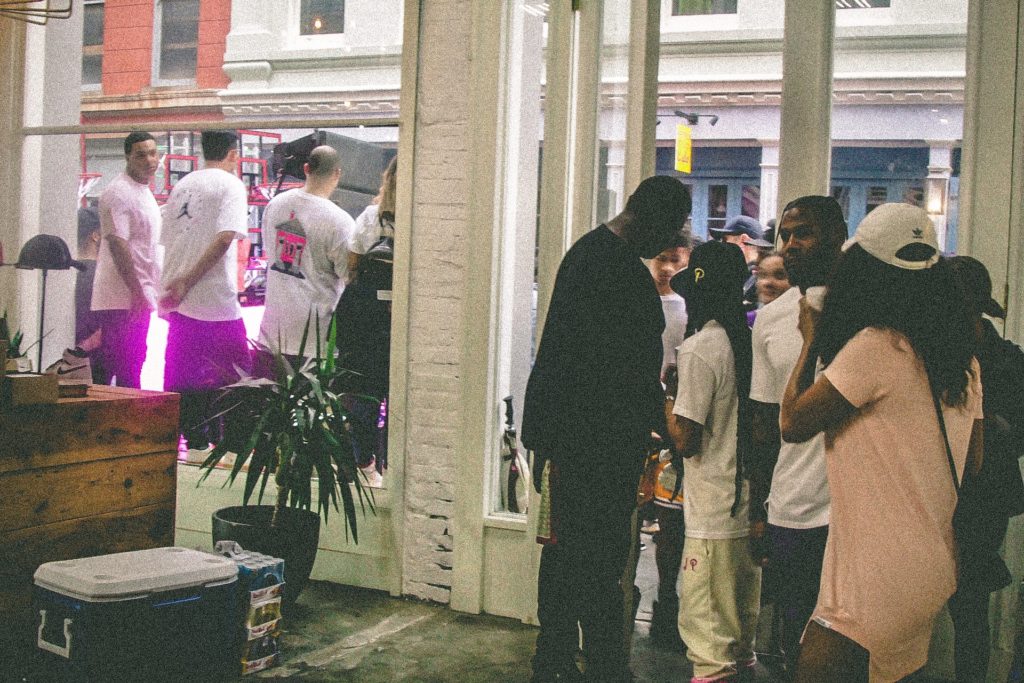 To celebrate the release of the Air Jordan 1 Nike SB light bone, and the exclusive release of the 504 Air Jordan 1 low x Politics shoe, the shop hosted its second block party with Brand Jordan. Like most events that take place in New Orleans, especially Larry Morrow events, the block party was filled with some of the hottest people, artists, performances, food, and drink vendors.
Most notable though, was the newest collaboration between Politics x Red Bull x Humidity Skate Shop. Set up on the block, and taking up the entire street, were skate ramps (via Red Bull) for the local skateboarders to grind. Infamously known for its terrible streets, New Orleans isn't the best city for skateboarding; they do not have many accessible skate spots. Having the ramps geared up the entire block party vibe: for the peeps standing in line, the local skateboarders, and the overall urban-type of lifestyle you see through sneakers and skating.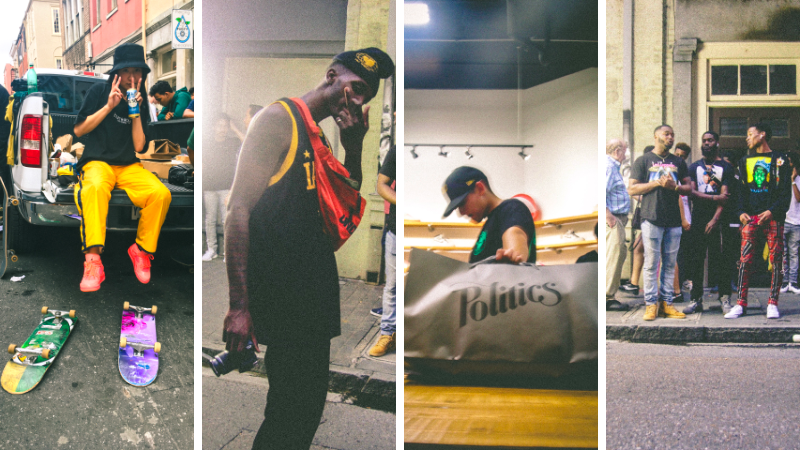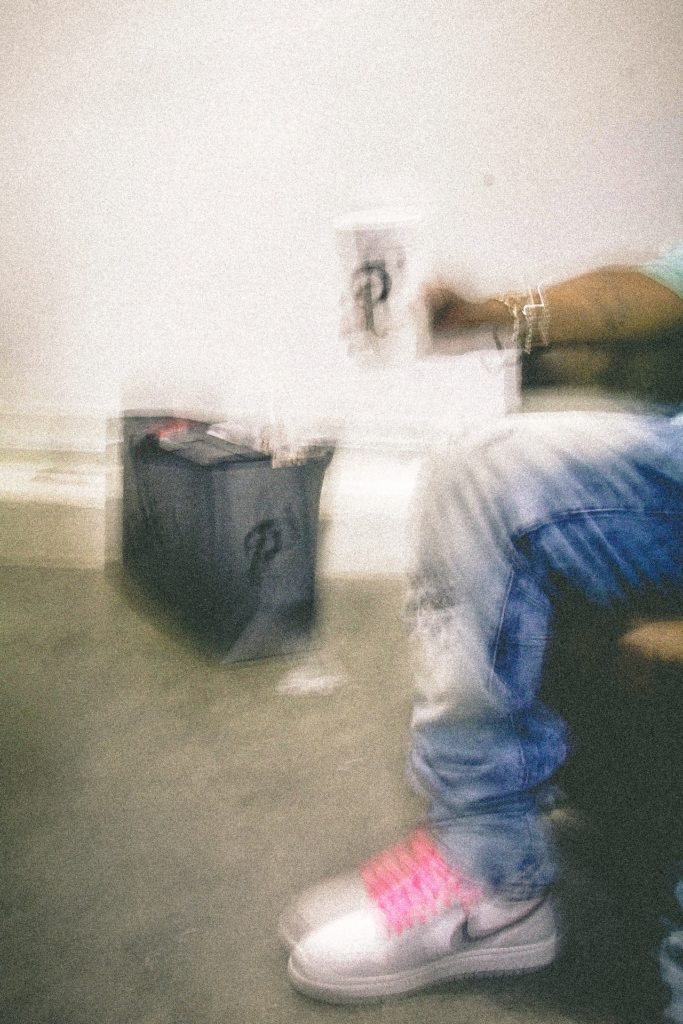 Performing live at the release were Mannie Fresh, Neno Calvin, Lil Keed, Freewater's Mhadi G and Loudiene, with DJ Digital on the 1's and 2's. Also there keeping the vibe alive with a live painting was New Orleans Visual Artist Jay Mckay. He whipped up a dope visualization of the real-time shoe release and block party.
Getting back to those who missed the release, I'll emphasize again that you missed out. But, lucky for you, I have the DL on the logistics behind the block party and what these events truly mean to the people at Sneaker Politics. To do that, I linked up with Sneaker Politics Designer Blaine McGowan. He gave me details on the exclusive shoe release, but more importantly, on how these events allow them to give back to their own community.
Check it below:
NG: When did ya'll open Sneaker Politics?
SP: The first Sneaker Politics shop opened in 2006 in Lafayette, Louisiana. Although set to originally open in New Orleans, Hurricane Katrina came through the city and destroyed any hope of that at the time. Since then, Politics has opened shops in New Orleans, Baton Rouge, and Austin, TX. And, in May of 2019, they will be opening up a brand new store in Dallas, TX.
NG: Tell me more about today's Jordan Brand x Politics Block Party.
SP: Our goal with these events is to always give back to the community of New Orleans. Following Hurricane Katrina, Brand Jordan released a Hurricane Katrina themed shoe in 2006. Upon its release, they auctioned it off and donated all of the shoe proceeds back to the city of New Orleans.
Last year, they decided to re-release the Katrina shoe, coined the "Katrina 3", but this time they collabed with Sneaker Politics. For the release party, both Jordan and Politics partnered with the local foundation Wings, in which, again, the event's proceeds were donated to the Foundation, which helped fund secure scholarships for high school students in New Orleans. After seeing so much hype and success from the Katrina 3 release, both were ready to plan for the next.
This year, Jordan not only stepped it up with the exclusive 504 Jordan low x Politics shoe, but they still kept it close to the Nola home.
In our eyes, a new shoe means a new party, a new foundation, and a new way to give back. We wanted to pick a Foundation that means a lot to both the shop and New Orleans.

Blaine McGowan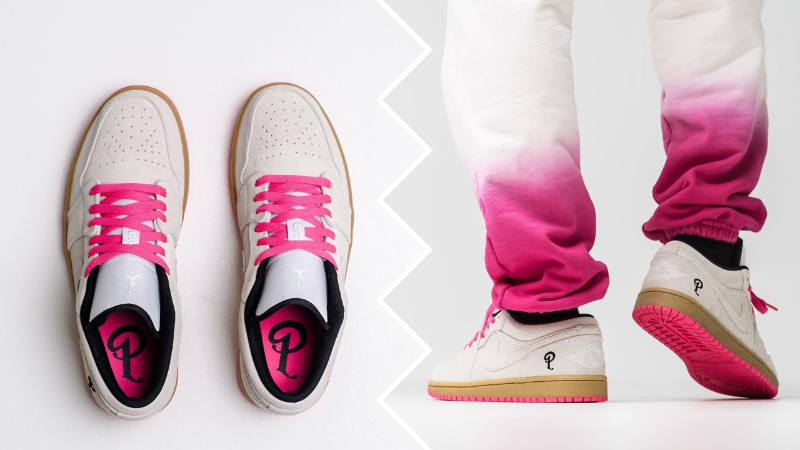 This year, we chose the local organization YRNO, which is a New Orleans Foundation that works to re-build abandoned homes and give them back to teachers and educators. Like the previous event, all of the product proceeds will be donated to YRNO.
At Politics, it's always going to be about giving back to our New Orleans community. It was exciting because no one knew that the proceeds were to be donated to YRNO. I was eager to get on stage and announce that. It's a good feeling for everyone.

Blaine McGowan
NG: Why an event for this specific shoe?
SP: Once again paying homage to the city of New Orleans, Jordan announced they would be releasing a "504-tailored" pair of shoes, exclusively significant and only available at Sneaker Politics in New Orleans. Only having made 504 pairs of the 504 Jordans 1 lows with the Politics "P" embroidered on the side, the shoe was only available at Politics that day.
NG: Have yall always just been sneaker heads?
SP: Yeah. We both came from bigger sneaker stores previously.
"It's weird, you might not get it; but we genuinely just love sneakers. And for me, I love the experience of events like this where I have to wait in line just to get sneakers. We love the culture of sneakers. That's what it's always been about."

Blaine McGowan
NG: Future goals of Sneaker Politics in New Orleans?
SP: Definitely a lot of future goals. A few years back, I kind of fell into the design role at Politics. I was just designing tees here and there. Since then, our design game has elevated and I am doing design for Politics full time. We're going to start working on releasing full "Politics Collections" that we create ourselves. So, you're going to see more of that in the future. Its going to get bigger and bigger. Dallas will probably be our last store but our focus will definitely be on our events and product going forward.
"Our brand overall is becoming the most popular brand in our store."
Be sure to stay tuned with Politics! They have a big upcoming collaboration with Cafe du Monde next month. They're planning on transforming the actual shop into Cafe du Monde, where they will sell the exclusive collab shoe. I won't go too into detail like Blaine did in the interview on what to expect from the Cafe du Monde event, but be there if you want to see a live shop transformation.