Having opened January 25th, I felt lucky to have snagged a Friday night reservation at the highly anticipated, French brasserie to hit Chartres St.
Normally, I would opt out of dining somewhere after 8pm but factoring in how my friend's tend to role on CPT, a 9:30 reservation didn't remain an issue for long. This is also coming from the gal who arrived 10 min late 🙂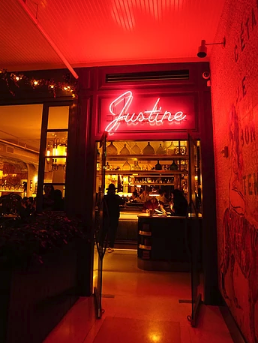 I arrive and was immediately immersed into the vibe that led throughout this place. My table wasn't ready so I waited at the bar which was lit up with smiles and tons of booze. I could hear the laughter bouncing off the walls and see guests excitedly socializing in between taking pictures of the art.
Justine features cool neon lights that cast a mature dim to the dinner table. They also had a DJ! This is something I find that New Orleans dining scene lacks, so I appreciate the owners, Justin & Mia (Yes we were on first name basis.) for incorporating this fun aspect into the Justine experience.
Burlesque dancers were present, twirling between tables, and when it came to the look of this place I was stunned. A few people told me about the décor but I wasn't expecting all that was brought to the table. Puns lol. After expressing our obsession for the décor, the matier de, Robby Robinson, made sure to give credit to Farouki Farouki, a local design firm who is the mastermind behind the project. #NOTED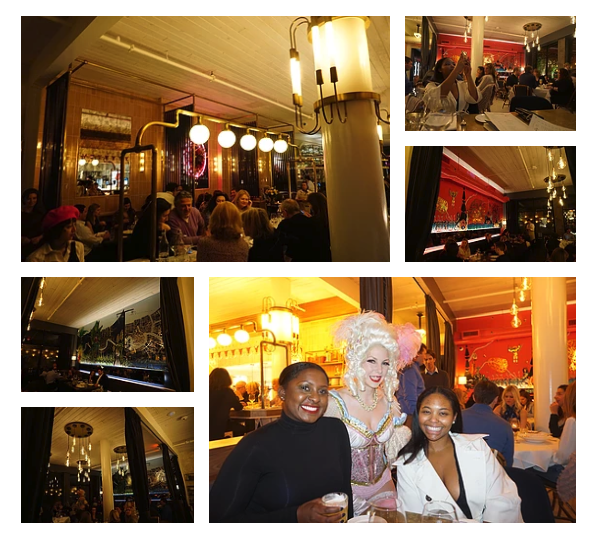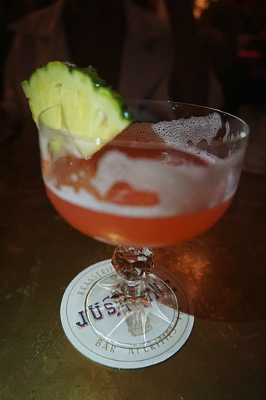 Our entrees also came with a long wait, but I understand the kitchen is in the process of figuring it out. Looking at the full menu, only a few dishes stood out to me (moules frites, short rib, filet and French onion soup.) This can be the result of a couple things: I don't like French food or I can't dissect the French menu items. I kept telling myself, "It's a French inspired restaurant. Get your palette up, girl!" I ended up ordering the Moroccan spiced short rib ($28)—tender, sweet & savory, comes w side of fries.
The fries were disappointing, which was to my surprise, because I can always count on a nice restaurant to come through. I'm gonna go with they weren't fresh by time they got to my table, but whatever. It's fine. My sister ordered a filet($42)—cooked medium, side of fries, cognac reduction sauce, to die for! The top of the filet was crisp with a tender body and a flavor that deserved a happy dance. My friend ordered the prime rib ($35)—medium rare, side of trash fries, waffle house presentation, nice flavor, fatty, nothing spectacular.
The night got much better when the couple literally sitting next to us just so happened to be part-owners. The lady walked over, on her way out, and asked our opinion on everything so we gave her our spiel. I was more of curious why she asked. Let me know. A little hesitant, she says she's the owner and would send a "sitter" to our table. Girl we aint know what that meant but had high hopes it was a fancy way of saying she took care of our tab. Yup, thats what it meant. BOY SHE SHOWED LOVE CAUSE THIS PLACE AINT CHEAP. Go Justine! I will be back.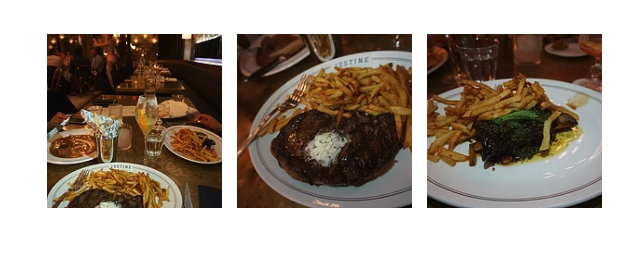 Justine is an upbeat, chic restaurant for the fashionable, grown & sexy locals who like to eat good and party hard. This is the spot to catch the hottest girl group dining before running the streets, the spot for a romantic date with your significant other, and/or the after-work meetup. I see much success in this restaurant and major kudos to the couple on their 3rd restaurant.

If choosing to dine at Justine in the upcoming weeks, I highly recommend making reservations and starting with a cocktail so the wait doesn't bother you. & lastly let them know #FatGirlPutYouOn
Tastefully Yours,
Your Inner Fat Girl