Talks with Stylist and VIP Luxury Hair Salon Owner Ashanti Lation
If you haven't been to Ashanti Lation's VIP Luxury Hair Salon yet, set your path there. Located in Gentilly, the salon is lucious in size and gives off radiant vibes. With the Bronner Brother's emphasis on beauty in New Orleans, I caught up with the salon owner to discuss her role at the upcoming Expo and what her plans are for the future.
Only 37 years young, Lation has been styling hair since she was 15 years old. Having mastered the 'beauty' craft over the years, Lation decided to put her brains to the test and take her capabilities to the next level. Check out our interview below:
NG: Tell me about your business VIP Luxury Hair Salon, and how you got into starting a business.
LATION: VIP Luxury Hair Salon is a salon I built based on my vision of a New Orleans. The salon experience at VIP is for everyone. When my clients come in, I want them to feel like they're VIP's. It's a luxury setting. I would describe the salon as fun, energetic, and hard-working. My stylists really do work hard to make the clients happy.
NG: What types of products and services do you specialize in?
LATION: What VIP is known most for is healthy hair, hair growth, and our hair product line. The line is filled with products tailored to healthier, thicker hair, and hair growth. And, of course, we're a full-serving salon. We do extensions, cuts, etc.
NG: I heard you're featured at the Bronner Brother's upcoming Beauty Expo coming to New Orleans. What will be your role at the event?
LATION: I am going to be one of the featured speakers at the #BeautyoverBrunch Panel, set to take place that Sunday, March 31. I will be giving my best business advice, and will speak amongst a panel of other successful business women.
We will also have a booth set up at the expo where we will be selling VIP Luxury products like the hair growth drops, shampoo, conditioner, etc.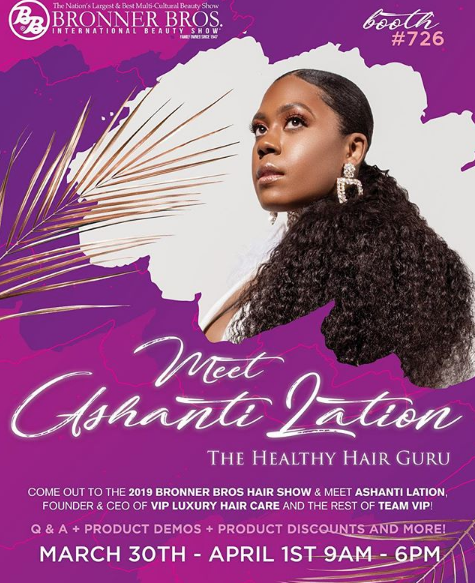 NG: How did you get connected with the Bronner Brothers?
LATION: Actually, the Bronner Brothers reached out to me this year and asked me to be a part of the Expo. Having good relationships in New Orleans can really bring you far. Especially with the rise of social media, and the ease of being able to reach out to prospects.
NG: Outside of the Expo, what are your future goals for yourself and the salon?
LATION: We actually have some big upcoming "VIP" plans for the salon. VIP is currently planning a tour that will allow us to go city to city and speak on beauty. On tour, we'll either do a "salon takeover" type of series, or just have a space available for clients to come get their hair done, network, and sell our merchandise. We actually get inquiries from people all over, outside of New Orleans.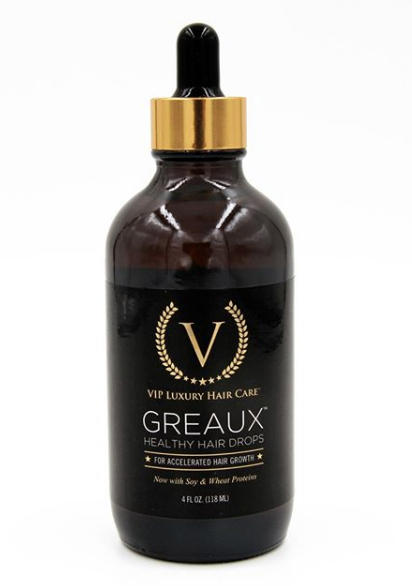 Additionally, we're working towards getting our VIP products into various markets. Being that VIP creates its own self-working products, were looking to spread the word about them.
Other than being a real beauty boss, Lation is both personable and beautiful. Matter in fact, she let me test out her 'GREAUX' hair growth oil drops, on the house. As one of her proclaimed best-selling products, I was intrigued to learn more about the drops. Describing them as "feeling the tingle of the oil absorb into your hair," I immediately felt at ease.
In addition to knowing how to make her clients happy, she is knowledgeable on her self-made products.
If you don't get the chance to make the Bronner Brothers Beauty Expo this year, be sure to check out Lation's VIP Luxury Hair Salon. The vibe is energetic, hardworking, and luxurious. Professionalism is a high priority for Lation and her 7 stylists.
It's always important to provide a platform for those women that work hard and achieve their goals. New Orleans is small, but Lation and her VIP Luxury Hair Salon is BIG. Stayed tuned, but first make an appointment, or browse their website for a better idea of the entirety of their products and services they provide.
Luxury VIP Hair Salon is located at 6600 Franklin Avenue, Suite A7 New Orleans, Louisiana 70122.