RICH HOTTIE // NEW ORLEANS NATIVE AND RAPPER
Formerly known as 'J Tha Hotboy', 26 year-old New Orleans Rapper and Uptown native Rich Hottie, is back on the music scene and ready to be heard. Looking to find success in the future through his music, Rich Hottie's been stepping up his musical focus. Recently, I got the chance to chat with the 12th ward artist, and learn a little bit more about his past, future goals, and who he is as an artist. Check out our interview below:
NG: How and when did you first get into music and rapping? How long have you been doing it?
RH: Since I was a child, I have always been entertained by many artists & artist groups. Even as a young kid, just watching them inspired me. Having such a love for music at a young age, I decided to start rapping at the age of 12.
NG: Describe to me the vibe of your music. What can listeners expect?
RH: I feel like I make music that everyone can vibe out to. Imma Gemini, so my vibes are constantly changing. One thing my listeners can expect, though, is a good, hot record every time I record.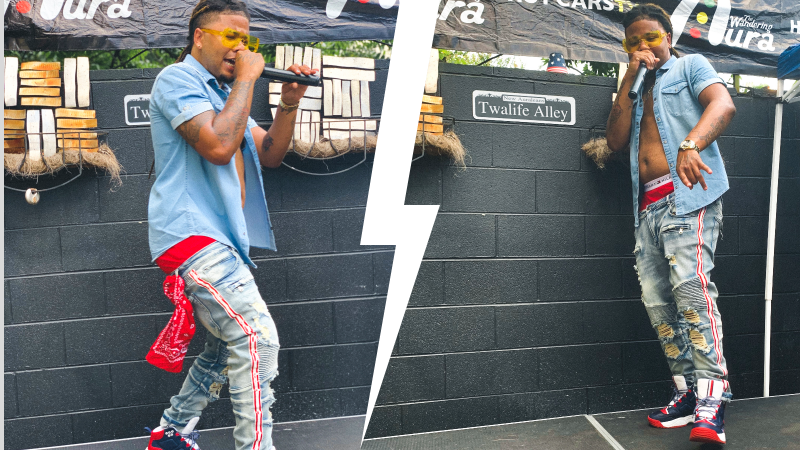 NG: You changed your name from 'J Tha Hotboy' to 'Rich Hottie'. Why did you change your name, and when did you change it?
RH: I changed my name because the older I got, the less original I started to feel as an artist. I started to realize 'J Tha Hotboy' wasn't as appealing to me as it originally was when I came up with it. With time comes change, so around the age of 22 is when I officially became 'Rich Hottie'.
"Imma superstar and the next big superstar out of New Orleans. I want to be compared to other big moguls that are successful from the city. Rich Hottie is my new rap name. I used to go by 'J Tha Hotboy' but now that I go by Rich Hottie, it's rich and it sticks like magnets.

Rich Hottie
NG: What was your last release and do you have any upcoming music you plan to drop?
RH: My latest release is actually a track I re-released called "The Way U Is". This time around, I also dropped some visuals for the track when I re-released it. That was pretty recent, and you can find it on YouTube.
At the current moment, I am working on a lot of new music. Some of the music is raw, and some of it is more commercial. Definitely something to stay tuned for.
NG: Who are some of your favorite artists from New Orleans?
RH: Like a true New Orleans native, I salute any artist that came up under Cashmoney Records or No Limit Records. But, if I had to pick my favorite New Orleans artists, I'd definitely say Lil Wayne & Juvenile.
NG: Future goals for Rich Hottie?
RH: I want to become a successful artist, both music & business wise. Some personal goals of mine are to win multiple music awards, make lots of money, and put my city, New Orleans, back on.
NG: What music platforms is your music currently on? Or how can people listen to you?
RH: Unfortunately, a lot of my music was taken down a while back due to a breach of contract. Since I am doing everything 100% independently going forward, I am currently finalizing my music with all of the big music platforms.
In the mean time, I am back up and running on YouTube, and I just dropped two new mixtapes on Audiomack. Ya'll be sure to check me out.
From the look of it, Rich Hottie seems to be laser-focused on his music career, as he sets out to complete his own personal goals as an artist. It's a triumph to win multiple music awards, make lots of money, and biggest of all, put the city of New Orleans back on the music scene. But, with hard work and dedication, there is nothing that cannot be done. Be sure to check out Rich Hottie's latest visuals to his "The Way Is Us" track, available for viewing, here. Also, be sure to follow him on Instagram, and stay up-to-date on his next tape release.