BAYOU BRASS: Handmade Rings, Earrings, Necklaces, Serenity, Stones, Crystals, Metals, Healing, Serenity, Self-Awareness, Knowledge, Empowerment (female empowerment at that), Goals, Dreams…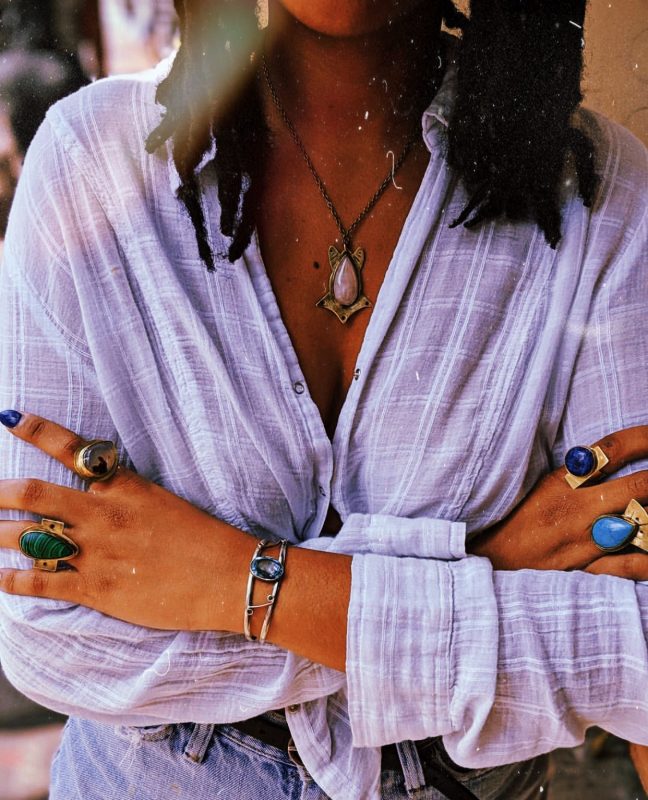 New Orleans is full of creativity, artistry, and dreams. So why not shoot for the moon? That's exactly what creator and small business owner Sarah Chamoro decided to do back in 2015 when she chose to take her Political Science degree to the grave, and engage in her true passion: brass metalsmithing. If you haven't gotten the chance to check out some of her jewelry, it's a must. All from the inside of her studio apartment, adjacent to one natural-lit window, Chamoro does all of her metal-making from within.
Living in a studio apartment, it's small…so I have my essential and personal things. But if you turn the corner, you'll find a naturally-lit window, accompanied by my metal-making machine, which is where I weld all of the brass metal by hand. It pretty much takes up the rest of my spot.
Although the foundation of New Orleans for most of its citizens is art and striving as an artist, it's certainly easier said than done. New Orleans is small, and making your rounds round' the Crescent City is a task within itself.
It wasn't until I was browsing around Hippie Gypsy on Canal Street that I ran into Chamoro's selection of stone rings and necklaces displayed in the storefront. My eyes lit up, and I was immediately drawn to her natural jewelry. Finishing off the majority of her pieces with a selected stone, metal, or crystal, I couldn't help but be intrigued. Upon learning that the eye-drawing jewelry display shining bright from the corner wasn't a part of the stores regular inventory, I had to learn more about the creator of Bayou Brass, and the business itself.
To my satisfaction, I got the chance to briefly chat with the mastermind behind the line to learn more about her background, and more importantly, what inspires her through her metalsmithing. Below, check out my interview with Bayou Brass Founder Sarah Chamoro and learn more about how she got started, the jewelry-making process, and her future business goals for Bayou Brass.
NG: Tell me a little bit about yourself. Who are you, where are you from?
BB: My name is Sarah Chamoro. I am 28, a New Orleans native and first generation Honduran American. My parents immigrated to the states in the 80's and settled in New Orleans. I am the sole-creator, mind and soul behind Bayou Brass.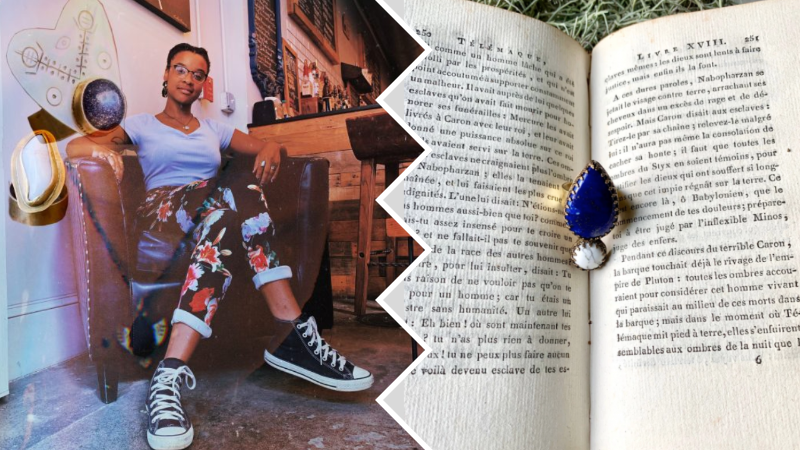 NG: What is Bayou Brass? What's behind the meaning of it, or how did you come up with Bayou Brass?
BB: Bayou Brass is a line of jewelry that I handmake from brass metal and finish off with a variety of gems, stones, and pendants. All of my pieces are one of a kind and range from rings, necklaces, including some wire-wrapped pieces.
BB: As the daughter of a carpenter, my family has always been 'hands-on'. When I was younger, I remember hanging out with my dad in the backyard, where I would assist him in cutting wood and all sorts of things. I think that's where the love of being able to use my hands to create came from. It's just been around in my family. Still to this day, I love watching my dad make and create.
I really love the idea of starting from scratch, getting my hands dirty, and creating something natural and beautiful.
NG: When did you first start Bayou Brass?
I first started Bayou Brass in the Spring of 2015. The original name I started with was Harvest of Things. That's when I initially was just hitting up second hand stores and selling second life clothes and antique trinkets. So it was a harvest of things. Then I got into metalsmithing and making art with metals. I grew up on the bayou and I'm a metalsmith who mainly works in brass metals, hence the name Bayou Brass.
NG: When you originally started making jewelry, what was your vision behind Bayou Brass?
BB: My vision's always been the same, which is to have a storefront and be able to do what I love everyday. I have a degree in Political Science, and growing up, I stuck to a very specific path. Ultimately, I wasn't finding happiness from that path, so I decided to take another.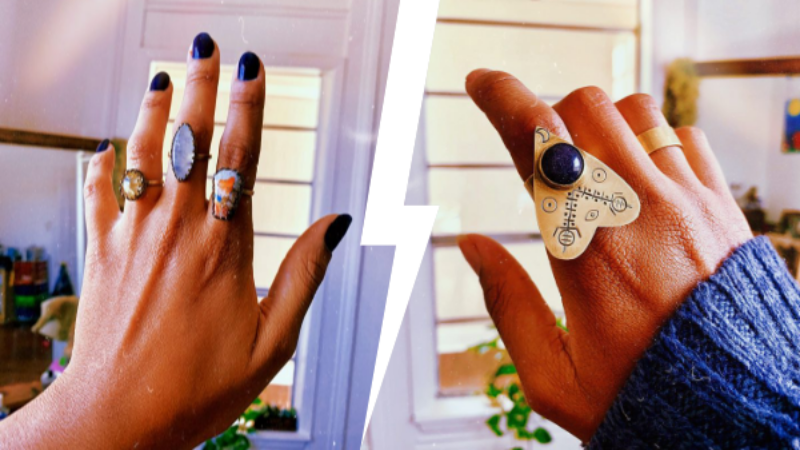 I didn't know that I could make a living off of this at all. There's an entire community and market out there that fully appreciates the 'made-by-hand community'. I didn't have a vision to begin with, I was just doing what I liked to do and later it evolved into a love. Then it turned into a wanting to work from home and now the goal is opening a store front.
NG: Have you always been into jewelry-making?
BB: No, haha. I was never really into making jewelry. It started with beading and wire wrapping, really. I was wrapping stones and then the idea of metalsmithing sparked in my mind. I thought that there's enough talented wire wrapping artists here in the city and I wanted to go a different way. Making art from metal is more of a challenge for me. If you forget to pay attention to the closest detail then that could compromise the entire piece. I love it.
Jewelry means so many different things to different people. It can be a reminder of love, strength, and healing. It can give a physical sense of support, protection, and a form of self expression. I love it. Still to date, I am a work in progress.
As someone who is self-taught in my current craft, everyday metalsmithing is still a learning process for me.

Sarah Chamoro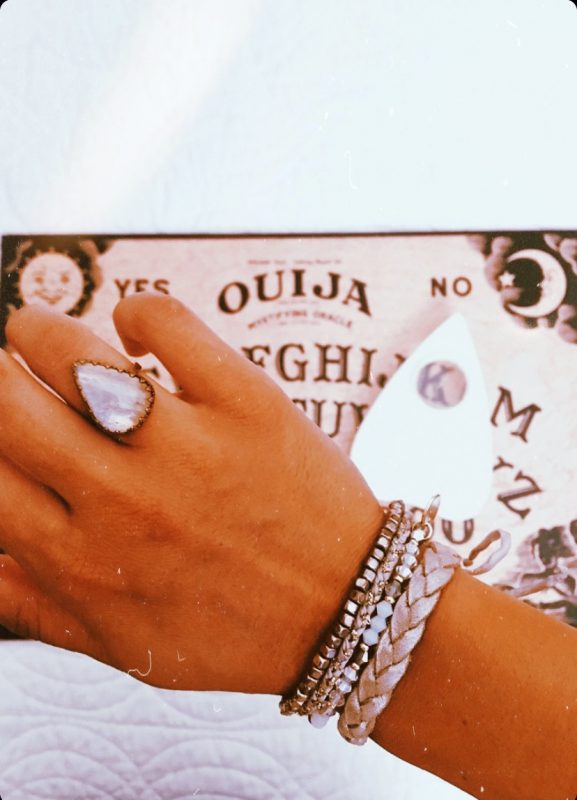 NG: What's the creation process like? Do you buy your metals and stones in bulk?
BB: I actually create all of my jewelry from inside my apartment. I have my metalsmithing setup in the corner of my spot, right by where the natural light creeps in. I don't need a lamp or anything, so it's nice. In terms of the metals and stones I use, I get them all from specific suppliers, all of whom are local. Now days, you really have to be mindful of which suppliers you buy from because t's really common for them to sell fake stones, so it's important to be particular with who you buy from.
NG: Is the "free spirit" type of vibe I sense from Bayou Brass a representation of yourself?
BB: My jewelry is very nostalgic to me. For instance, I have on one of the first rings that I ever made and it brings me back to a certain time period in my life that is heavy with memories. Say you're having a bad day, but you have on a nostalgic piece of jewelry on that immediately brings you back to a happy memory. That to me is what I love about my brass jewelry.
Each of my pieces are made with intention and to be cherished for lifetimes beyond your own. My heart is set on my pieces being worn in the truest expression of one's self, with intention and care.

Sarah Chamoro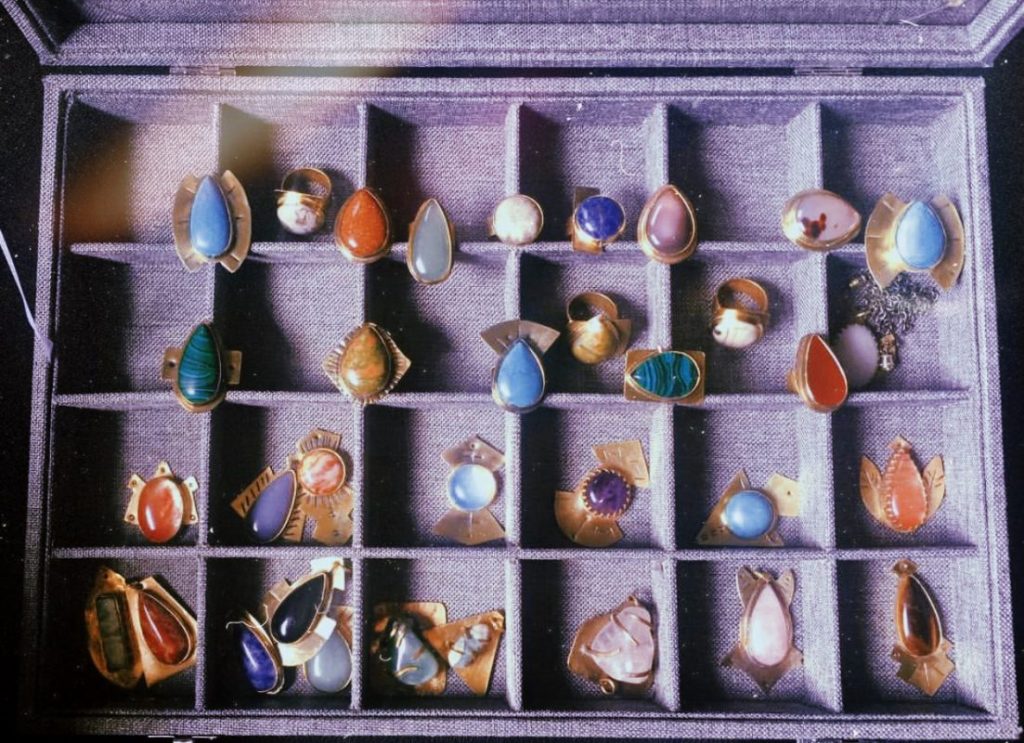 NG: What are your future goals for Bayou Brass?
BB: I want to open up multiple Bayou Brass storefronts where I can sell my creations. Having multiple stores throughout the city, like We Dat's, would be a huge dream for me. Or, being able to have my pieces in shops all over the city like Jessica Dupart's Kaleidoscope Hair Products. That's always been my goal from the beginning. All of my stones and metals are bought from local, small-businesses and suppliers, and that inspires me to partake in the small collective group that lies within our city.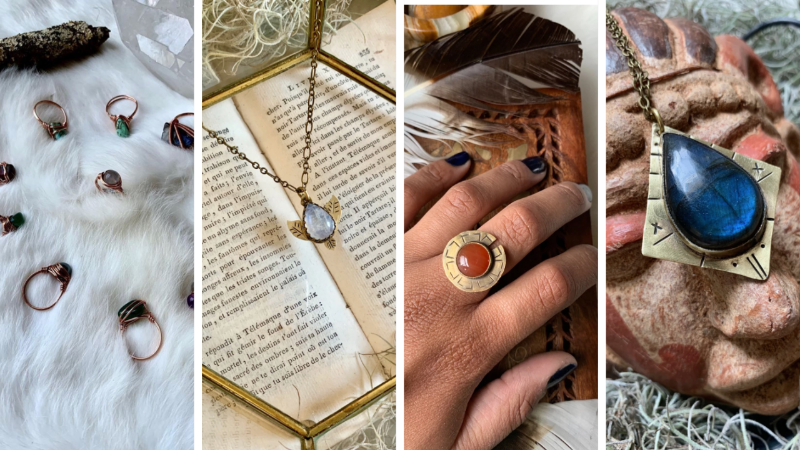 NG: Where is your jewelry available? And how can people contact you for more information, purchase, etc.?
BB: They should go to bayoubrassnola.com where I have my collection displayed and for sale. On the first of each month, I always release new designs, so you can always expect something new. Additionally, I keep my Instagram up to date with new designs at @BayouBrass. Lastly, you can find some of my pieces at @KnowlaCo's new shop, located at 3731 Canal Street.
The vision is real! Throughout the Bayou Brass website, the aesthetic is appealing and corresponds with the overall vibe of these unique creations. Upon the selection of a piece, Chamoro provides a small synopsis of the stone used, what it stands for, and the spiritual benefits it brings to ones life.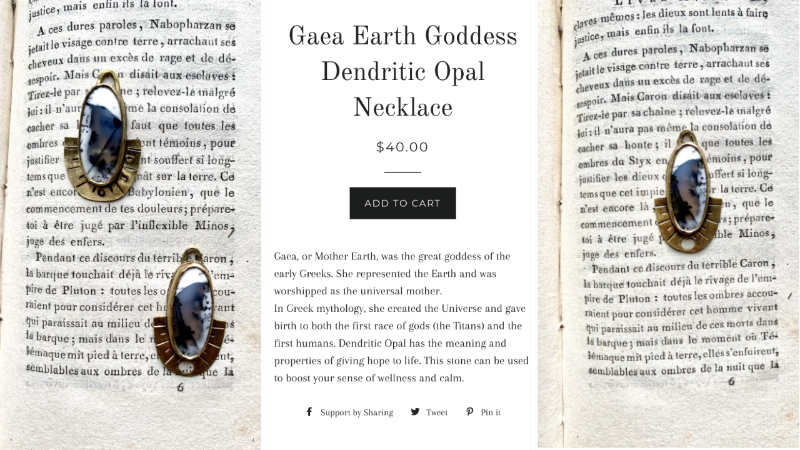 Gaea Earth Goddess Dendritic Opal Ring: Gaea, or Mother Earth, was the great goddess of the early Greeks. She represented the Earth and was worshipped as the universal mother. In Greek mythology, she created the Universe and gave birth to both the first race of gods (the Titans) and the first humans. Dendritic Opal has the meaning and properties of giving hope to life. This stone can be used to boost your sense of wellness and calm.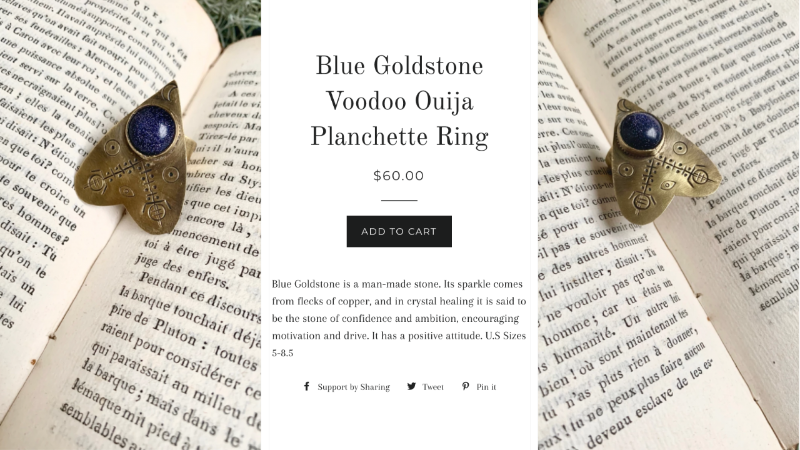 Blue Goldstone Voodoo Ouija Planchette Ring: Blue Goldstone is a man-made stone. Its sparkle comes from flecks of copper, and in crystal healing it is said to be the stone of confidence and ambition, encouraging motivation and drive. It has a positive attitude.
By the end of our interview, I felt overwhelmed with sweet clarity. It became obvious that the beauty of Chamoro's jewelry comes straight from her soul. Not only is the aesthetic of Bayou Brass top notch, the creator is as well.
Whatever the occasion, if you're looking for unique, meaningful and beautifully crafted jewelry to create your own nostalgic memories with, Bayou Brass is the path to take. Whether you're a New Orleans local or visiting, stay true to the city's roots, and support your locals.