NEW ORLEANS, LA, MAY 26, 2021 – LEVEL Ultra-Purified Water+ is partnering with Rouses Markets, to distribute LEVEL Water to all Rouses stores in Louisiana, Mississippi, and Alabama. This partnership is the combining of Louisiana's biggest homegrown supermarkets and the growing alkaline water company. The Limited Edition Blue Bottles will release at the grand opening of Rouses' new location on Freret St. in New Orleans\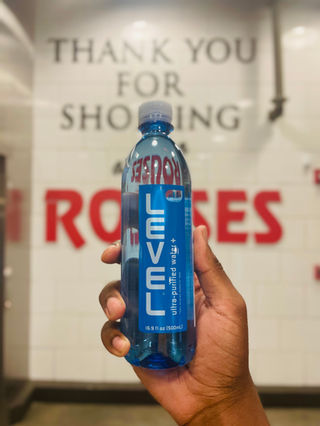 John Williamson, on Limited Edition Blue Bottles and the partnership with Rouses, "These bottles represent a NEW LEVEL! Rouses will provide more opportunities for LEVEL to be physically available for more communities. Being in Rouses 60+ stores will allow us to make an impact in the communities where the brand is present." To further commemorate this moment, LEVEL is offering a year's supply of free water to one lucky person who purchases a limited edition bottle. For more information on the contest, click here.
LEVEL Ultra-Purified Water+ (pH 9.0+), is a New Orleans-based water company, that goes through 11 stages of purification and adds ionic trace minerals (Calcium, Magnesium, Potassium) to deliver alkaline water with superior taste and hydration. Founded in 2016, LEVEL is a lifestyle functional water that aims to promote physical, mental, and spiritual enhancement, while also effecting social change in the community.