SOUTH / FLOW / VIBES / THE 90'S / ANGST / FREE / STYLE / MILITANT / 23 / 7TH WARD / FEMALE / A RIOT / GENIUS / AESTHETIC / A RIOT /// BLUSHAKURX
From the "Pimptress of Hip Hop" to "SapphireBlu" and eventually coining herself as "BluShakurX", or just"Blu", this 7th Ward female rapper out of New Orleans brings all wavy aspects of the rap game to the city. She may be small, but as one of the few female rappers bringing heat to the Cresecent City, Blu brings one of the most unique and gnarliest styles of rap to the forefront, amongst both male and female artists.
Inspired by Assata Shakura, Blu says her vibe and overall style comes from Shakura's militant-type of persona she exudes, especially as a colored women. Typically full of sweet-angst, Blu changes course in our latest interview, and gets vulnerable with her audience as we sit down to discuss Blu's musical inspiration, her past, present, and future goals for herself as an artist and for the New Orleans community.
Speaking on her own personal style, self-produced tracks at times, musical inspiration, from both local and out-of-state rappers, Blu doubles-down on one of her biggest goals as a female artist from Nola, which is her hope of widening the lane for New Orleans female rappers to succeed here.
Check out our interview below:
NG: Who are you, what do you do, what's your age, and where are you from?
BLU: My name is Kanika Harvey aka "BluShakurX". I am 23 years old & I am from the New Orleans 7th Ward finest baby.
NG: How did you come up with the name BluShakurX? What's the meaning behind it, if any?
BLU: I wasn't always BluShakurX aka "The Pimptress Of HipHop", but originally started as "SapphireBlu". It was initially my DJ name. The name BluShakurX comes from "Assata Shakur", as I am very big on militant women, especially women of color. I admire her story because it's very similar to mine.
The "X" in BlushakurX represents the algebraic expression "X", and represents the "unknown". It's a great representation of me because with Blu, you never know what you gonna get.

BluShakurX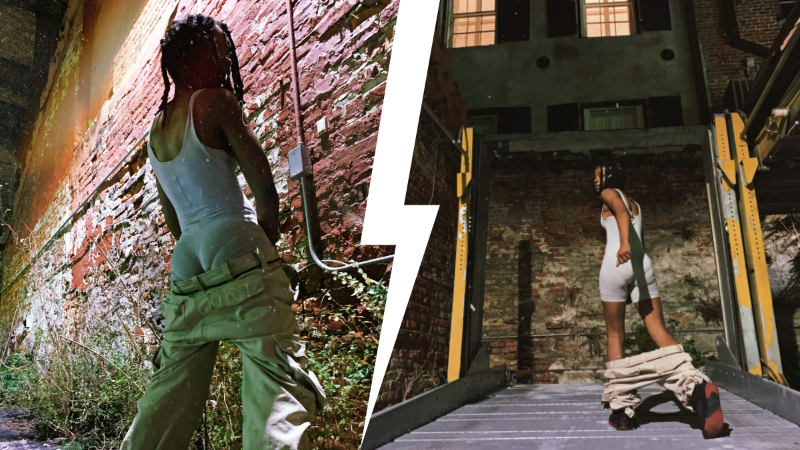 NG: How long have you been doing music?
BLU: I'v been making beats and DJ'ing since I was about 16 years old. I recorded my first track when I was 18 but didn't start to take recording my music seriously until I was about 20. In conclusion, you can say that I've been making music at least 1/4th of my existence on this earth … so for some years now.
NG: How would you describe the vibe of your music?
BLU: To be honest, I can't really describe my music's overall vibe, but people tell me I give off a 90's type of vibe but with a new school twist. Kinda like grunge trap… I create music you can smoke to, mosh to, or hit a lick, ha.
NG: Where does your musical inspiration come from? What do you rap about?
BLU: My inspiration is kinda crazy because everything and everyone inspires me. Ranging from Quincy Jones, to Teddy Riley Dallas Austin & Timberland, to Madonna, Kurt Cobain, System of A Down, Triple Six Mafia, Three six Mafia, and ending with Paul Wall (even though the list goes on endlessly).
To me, the greatest pimp ever is "Pimp C", followed by James Brown, Micheal Jackson, Prince, Rick James, and circling back around to my favorite all time female rapper Monie.
Most of my music is written in whatever mood I'm in at the time. Most of it's angry shit but sometimes I try to flaunt my Pimptre$$ Side, so I'll make some smooth shit. BUT, no matter what type of song it is, I'm always coming off militant.
NG: How would you describe your overall style and vibe?
BLU: Overall, I try to go for a 90's type of style but with a new-school touch, especially. My personal style really comes from the music I listen to. And basically, having all the sounds that make a baby are what creates BluShakurX.
NG: You talk about getting respect from OG's more out of state than in New Orleans…who are you talking about? And how so?
BLU: Well, I'll give you an example. One time I happened to be around one of Nola's more recent successes in the last music decade (and I won't name drop), but, it was crazy… When I pulled up on him, his personal photographer that was alongside him was recommending my work to him, and pretty much bucking me and my music up. Even in his presence, he was quick to dismiss both my work and our conversation at the moment.
Soon after, an out-of-state couple pulled up, and started speaking to him about their son who was supposedly a top-notch jazz/sax player. They went on about how great it would be if they could work together, and regardless that they weren't from our city, his interest immediately shifted to inquiring about working with their son.
It is just crazy to me that even with face-to-face personal recommendations and suggestions, I still got no love from the Nola-based artist.

BluShakurX on working with other local rappers from New Orleans
NG: How would you describe the female rap/hip hop industry in New Orleans? To me, it's not too big. Do you feel like you could make waves as a talented female artist here?
BLU: I feel like there is a lane for female rappers in New Orleans, but the lane isn't big…if anything, it's narrow. Everybody wants to be the "IT". But to me it's because no one here stays true to themselves, personally and as artists.
Females rappers are always giving themselves away through raunchy vibes in their music, talking about fucking the n****s. But BluShakurX is coming with an edge, and a different view.
I don't feel like any n****s. I'm going to be the one fucking you, and taking everything off you at the same time. Because of my angsty and militant attitude, I feel like I can make noise.

BluShakurX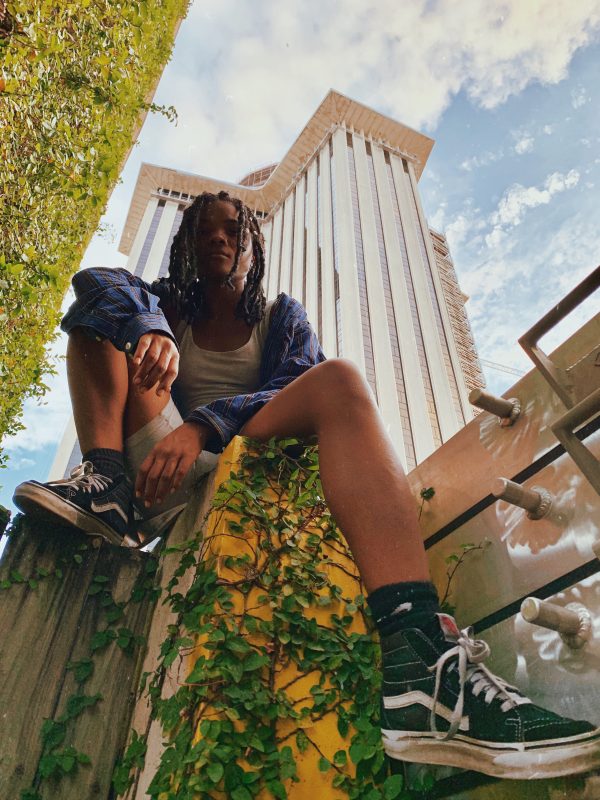 NG: As a female artist from New Orleans, what makes you different than others? Who would you consider some of your fellow rappers?
BLU: Both my approach and my aesthetic, but especially the militant push I'm on. Like others, sex isn't my propaganda or my brand. The vibe of power and militia is what I want to give off. Not on no sista-sola shit, but I want people to understand that if we unite together as one, we could really fuck some shit up as a city.

BluShakurX on her independence as an artist
In terms of the female rap community, I feel like Tazo and Darlin are along my side. I respect the fact that they too aren't taking the ordinary lane of using their looks as an appeal; they aren't trying to sell sex as their brand. More importantly, they are trying to shape a new perspective to the female rap game.
NG: How do you plan on opening the female lane back up?
BLU: Through diversity and unity. I feel like there are plenty of slept on female singers/producers/videographers, and females often get over looked because simply because they're females.
But, women can do 10x what men can. It's really just about accepting each other for our craft, and finding a way to build together and support one another. But, it takes all of us to make it work.
NG: Honestly, in terms of performing, I feel like you perform a lot more than both female and male rappers. Why? Do you just enjoy performing or is it something you building up for yourself?
BLU: When it comes to performing, I feel like it's just my favorite part. In general, I enjoy entertaining people, and where I come upon a lot of my opportunities, as well as gain respect with my fans. I love showing love to the local businesses and community in New Orleans. I also enjoy performing above producing and making music. It all stems from the energy I get when I perform.
NG: What will you be dropping next, musically?
BLU: For the rest of 2019, my focus is on being more consistent with my content. I mostly plan on music videos and a few singles. But, come 2020, I plan on dropping "Young Hawt Ebony Tape 2" or "YHET" and "Mind Of Shakur Volume 1" or "MOSV1".
"YHET" is an album that captures the continuing journey of my more feminine side, and has a lot of love songs but also me pimping, always. "MOSV1" is more geared towards "f*ck the system," and is on some HARD shit, espcially in terms of the beats. Big shoutout to my producers VafYoung and YungShii.
NG: What are the future goals of BluShakurX?
BLU: The future goals of BluShakurX are to become more vocal in the political scene in the New Orleans area, better communication with Mayor Cantrell, me and my team eating, and just creating great energy in the Nola rap scene, and lastly, touring.
In conclusion, it's stupid as f*ck that we are all divided.

BluShakurX on her future artist goals
If you aren't feeling blue (in a giddy, grungy, militant way) after gaining insight into who BluShakurX is, and what she stands for, then check out her music. It's bound to make you down with her. With future goals and ambitions in sight, and a real musical following that she's built since starting as a DJ at the age of 16, we see a bright future for Blu. It's not only exciting to gain some knowledge on how Blu has developed and where it all started, but more importantly why she's developed into BluShakurX, who at the end of the day is Blu. Day Blu, Night Blu, and Forever Blu.
It's a bet that at this point, you're craving to witness this 23 year-old's presence, and there's some good news for you. Blu is set to perform with some other great local artists (Spida Mane, Lango, and 2baggshawty) on December 14, 2019 at 10 pm at the location of 2415 Dryades Street. The cover is $10, but if you're looking to get down and dirty with some aspiring Nola artists, and maybe even pushed into a gnarly mosh pit, this is the show to witness. If you aren't able to make the show, be sure to check out an archive of Blu's music on her Soundcloud, here. Additionally, check out SteezBros (@sbmob_), a New Orleans rap group with a similar vibe that Blu has made music with for some time now.
For future inquiries on BluShakurx, or to book her, be sure to contact her management via Instagram at @jordvnn_ and @_thebluntbuddha.