Overdue and spur of the moment dinner plans had been made for 8:30pm on a Tuesday night with my best friend, Yogi at Restaurant Rebirth.
Tastefully late, I arrived a little before 9pm just in time before it would've been inappropriate to walk into a restaurant before a 10PM closing. Turns out they closed at 9:30. How rude.
When it came to Restaurant Rebirth, I had heard nothing about this Warehouse district eatery besides recognizing the name. My friend suggested we eat here, which I'm fine with because with this impressive "foodie" title comes the pressure of choosing the eating spot all the time. Dining at a place off my radar can be exiting too, y'know? I made sure to look over the menu and browse insta to give me insight of the cuisine style, popular items and the overall restaurant vibe.
Side Note* " I like to go into dinner with at least an idea of my order bc it makes for smoother service for myself the server and most importantly, myself. I'm easily overwhelmed with menus and most of the time I'm too locked into my conversation. Asking the server what they believe is the best entree, followed by the what's the most popular item usually leads me in the right direction. Anyways. "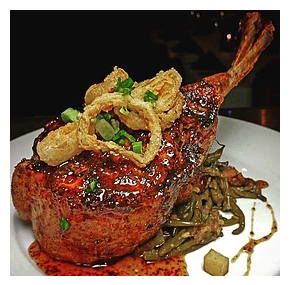 I went in knowing I'd order the Double- Cut Cheshire Pork Chop ($32) .
This was a beautiful, insta-worthy chunk of meat that I couldn't browse the internet without seeing 365949 times. Once the server endorsed this choice, I confidently placed my order. All these aspects made it much easier to forget about my anti-pork fad. To my dismay, it was sold out as was the first choice of my friends. Blewwwww me even though Yogi warmed me of this normal occurrence. Odd bc they open at 5:30pm for dinner, only? Like damn y'all need to keep the meat on deck if y'all gonna be doing numbers like this haha. Whatever. I guess I shouldn't be eating swine.

Instead, I ordered the Gulf Seafood al Ajillo ($34) and started with a grilled romaine &fried oyster salad ($14). My cocktail of choice was a martini ($12?).

My 1st course was bomb, even though I was adamant about only wanting a Caesar salad. "The chef is traditional and says it can only be made as is on the menu", said the server with news that my request had been denied. Believe me, after running out of the swine, I was confident Mr. Chef Ricky would approve my request. Yeah, no.
My entree was…DELECTABLE. It is a soup- like dish with fresh seafood: shrimp, crab claws, oysters + Mahi Mahi broiled with garlic, white wine, parsley, olive oil, crushed red chili peppers, saffron, and grape tomatoes served w French bread. 4 STARS!???? It was so tasty, y'all! The fresh seafood! Flavorful juices! French bread to soak up the stock! Yes ma'am I was loving it. I type this with a soft grin and large appetite okay haha.
My dining experience was well enjoyed at Restaurant Rebirth! It has a rustic setting and mature vibe. I suggest making an early evening reservation to enjoy the menu in its entirety & having low standards when it comes to making special requests. I'd like to make a trip back to try the pork chop. If you make your way before me, let me know the real and be sure to tell them #FatGirlPutYouOn 😉
Tastefully Yours,
Fatgirl
Restaurant Rebirth, is a cajun-creole eatery that is home of Chef Ricky Chermaie located in New Orleans Warehouse District. Like many, Chef Chermaie intertwined his passion of the arts and food by moving to New Orleans and pursuing a culinary career. Before Chermaies mighty position of head chef, you could find him gracing the kitchens of Commanders Palace & Emerils. Familiar with the freshest of the fresh, Chef Chermaie curates dishes that are innovative and pay homage to his cajun background. Restaurant Rebirth is known for their fresh seafood, pork belly, blackened scallops and double-cut pork chops. They are located at 857 Fulton St and open Mon-Thurs 5:30-9:30PM, Fri-Sat 5:30-10PM.