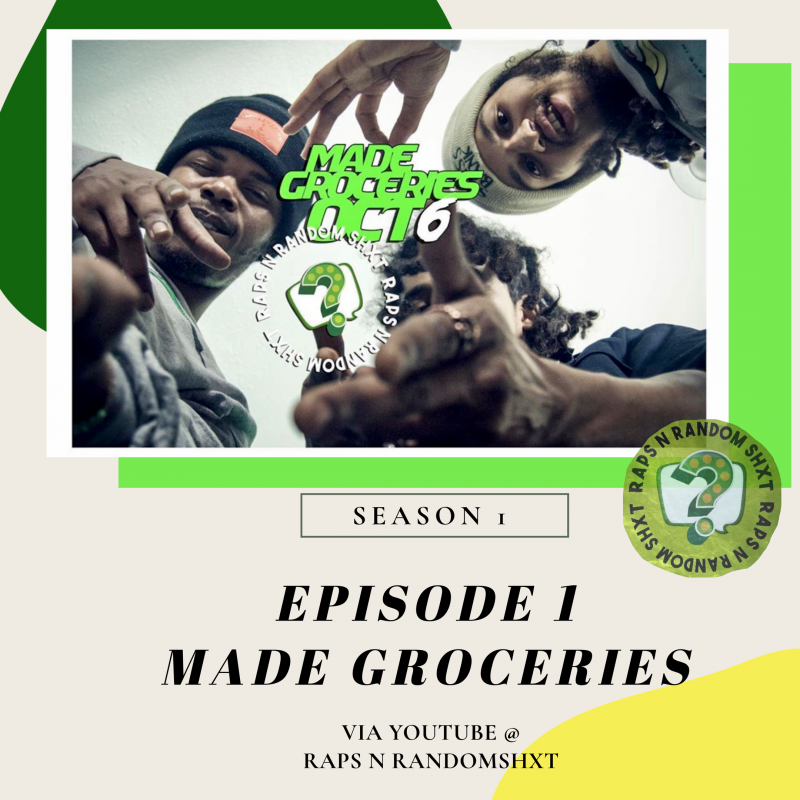 Having set off the Premiere of Season 1 on October 6, 2019 of Raps N Randomshxt is New Orleans' own local hip hop group MADE GROCERIES. Who is Made Groceries?
The first episode of Season 1 of Raps N Randomshxt just recently premiered Sunday, October 1, 2019 via Raps n Randomshxt's Youtube, and needless to say, it was a VIBE! Totaling around 13 minutes, RNRS was able to capture all sides of the group, and really gave us some insight into the personalities of the rappers that make up Made Groceries.
In Episode 1: "GROCERIES MADE", the group discusses traveling the world, their upcoming album 'Don't Be A Slave', and How New Orleans is the Best City in the World.

MG/YELZ – RNRS, EP. 1
No stranger to music, the creator of RNRS is local female rapper YELZ. On the same musical level as her colleagues, YELZ is an OG in the New Orleans rap game. She stands ground in the music scene with her consistent tracks and videos.
Recently, YELZ decided to turn paths, but only slightly. She recently announced the premiere of her new NOLA based music series that features members of the local New Orleans music and creative scene. Although a slight path twist to the right, YELZ is staying engaged in music, as well as putting others on. She's living New Orleans v. Everyone.
So What Is RAPS N RANDOMSHXT?
Check out my interview with the Creator, YELZ, below to learn about the new series:
NG: What is "Rapsnrandomshxt"? How would you describe it?
YELZ: RAPS N Random is a Nola based Entertainment show. It's a platform created for the artist and influencers who are shaping the New Orleans entertainment scene.
NG: When did you start it? Is Episode 1 that dropped on October 6 the debut episode for the series?
YELZ: Season 1 was just released on Oct 6th via our Youtube channel (Raps n Randomshxt) at 8:00 a.m. CT. So far, it's our first Episode 1 of Season 1, and it's featuring local hip hop group Made Groceries.
NG: How did you come up with the concept? And why?
YELZ: I created the first season in November of 2018. It was inspired by Lil Wayne's freestyle on Rap city in the basement. I thought, "I want to bring something like that to NOLA," says Yelz. So I reached out to a Delaney to help me brainstorm and finalize the concept, and from there, we went into the actual production process in February of 2019.
NG: What type of people do you plan on featuring in each season? And how do you choose them?
YELZ: We plan to feature Nola creative's, artists and influencers in the upcoming season.

YELZ on RNRS Featured People
NG: How often will each season drop?
YELZ: Currently, Season 2 is in the works. There will be two seasons next year, and plan to add more episodes to each season as well.
NG: Whenever a new season premieres, how can people watch it? Will there be a livestream? A physical place? Or will it only be on Youtube after you've casted it?
YELZ: To deliver each episode, we will drop them on our Youtube channel. For the Season 1 Finale, we have a pop-up planned that people can attend. But for each episode, be sure to catch them via Raps N Randomshxt's Youtube.
NG: How can people inquire about being featured on the show?
YELZ: We are always accepting content and submissions, and anyone who is interested in being featured can submit themselves at Rapsnrandom@gmail.com.
NG: What are your goals for Raps N Randomshxt?
YELZ: The overall goal for RNRS is to provide a place for all New Orleans creatives, artists, and influencers' to come and share their content and talent with the rest of the world… and have FUN!
NG: Who all is behind the creation of the series?
YELZ: I am the creator and host of the show. The series is Shot and Edited @lambo.los, Directed by @delannii & @kamaralandry, and in charge of Photography is @gilstarks.
NG: Tell us a little bit about yourself as an artist.
I'm inspired by 90's hiphop and R&B, I enjoy making music that makes me feel.

YELZ
YELZ: Being an artist to me is being a CREATOR: a creator of everything that moves you. I love making music, as I have been making music for the last 6 years. I've spent a lot of the past years learning and studying the music business so that I can fully understand the moves ahead of me. So far, I got my Music Label Black Summer Entertainment up and running, and just this year, I've dropped four singles. I'm currently working on a EP that's going to drop at the top of the 2020, so stay tuned for that!
Although I'm on a local level as an artist, I consistently strive to create music that will have longevity, so that when I do blow up, I can look back at my music with happiness because I have a solid foundation.

YELZ on herself as an Artist
Throughout Episode 1, thoughts about the episode kept popping into my mind. The episode was so enjoyable that it kept me laughing through its entirety, and I couldn't resist writing down words to describe how I felt about it:
A VIBE, Funny, Inspiring, Engaging, Informative, Motivating, NEW ORLEANS!NEW ORLEANS!
Given how pleasing and amusing, yet informative, Episode 1 of the series featuring Made Groceries was, I have a feeling this series is only going to elevate from here. It's about time artists in this city come together and put one another onto the scene.
Additionally, if you're an inspiring artist or creative from NOLA, and are interested in being featured, make sure to apply by emailing the team here.
The lineup of Season 1 will without a doubt bring a smile to your face and leave you with wanting to know who, what, and when Episode 2 will premiere. The rest of the lineup for the season includes a female & male rapper, a female DJ (aka boss bitch), and "hands-down one of the funnest" Comedians to come out of the Nola. Be sure to catch the rest of the stellar lineup of Season 1, which includes:
UPCOMING SEASON 1 FEATURES:
Check out the SEASON 1 Trailer below, and stay tuned!!!